Will Neymar Move To Paris Saint-Germain?
Posted on July 26, 2017 by Sreya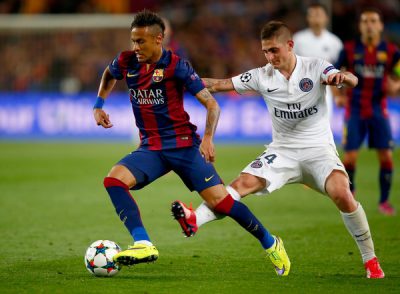 The future of Neymar at Barcelona has been a doubt since the end of last season. Although the Brazilian superstar has been a prime member of the Catalan club, he presumably wants to join Paris Saint-Germain.
There have been contrasting reports from all parties concerned all through the last month about whether Neymar will sign a new contract at Barcelona or activate his buyout clause.
The La Liga and Ligue 1 clubs have already been at loggerhead earlier in the transfer window regarding Marco Veratti, with the tables turning once the Neymar saga started.
The Brazilian forward has a €222m buyout clause in his contract and it was widely believed across European sports media last week that the Ligue 1 club will provide Neymar with the funds necessary to trigger a buyout.
Neymar has been key to Barcelona's style of play as the Brazilian has formed the deadly trio of MSN alongside Latin American compatriots Lionel Messi and Luis Suarez.
Although Barcelona are not hard-pressed for options and might make a move for Atletico Madrid's Antoine Griezmann or Chelsea's Eden Hazard should Neymar choose to leave, the Catalan club are unwilling to bend to Paris Saint-Germain's wishes for the French refused to sell them Veratti at any price.
These two clubs have battled vehemently in the UEFA Champions League over the last couple of seasons and with the Parisian club making bold statements in Europe's premiere competition, the summer transfer window will act as an intriguing subplot should these two clubs meet again this season.
The drama has intensified courtesy Gerard Pique's Instagram post where he mentioned his teammate will be staying at Barcelona, although the Neymar camp suggested they are still unsure about his future.
Neymar's probability of staying is more than that of his securing a move away to a lesser competitive league, but the matter is not expected to be resolved over the next few days and depends on the persuasive power of Barcelona.