West Brom Deny Berahino Transfer Request
Posted on August 26, 2015 by Sreya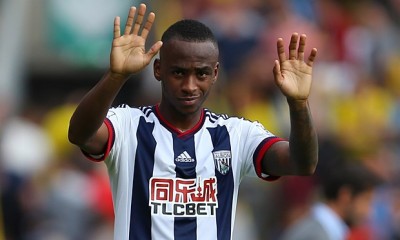 West Bromwich Albion have rejected a transfer request put forward by Sadio Berahino. Tottenham Hotpsur are interested in adding the 22-year-old striker to their squad this season, as a back-up for Harry Kane, who is yet to get on the score-sheet for the North London club.
West Bromwich Albion rejected an initial bid of £18m last week, followed which the player put in an official request on Monday, which was again denied by the club. Tottenham Hotspur put in a second bid worth £22m yesterday, but West Brom remain adamant on their stance.
The club released the following statement as a response to Spurs' continued interest in the player.
"Our position remains unchanged. The sale of this player is not on our agenda." – Jeremy Peace, West Bromwich Chairman.
Sadio Berahino has been a part of the West Bromwich Albion set up since the U-21 level and the club admitted it would sell a prices upwards of £20m in March earlier this year. However, Tony Pulis, the West Brom manager wants to keep hold of the striker for at least another season. Berahino scored 14 Premier League goals last season in 38 appearances, with a combined tally of 20 goals in all competitions.
Spurs would heavily boost their chances of finishing higher up in the English Premier League table should they be able to lure away West Brom's prized possession as Berahino is not only a clinical finisher of chances, but also excels at linking up play with the attacking midfielders.
Berahino lost his place in the matchday squad during West Brom's match against Chelsea due to his inclination to move, but the striker is expected to be back in the squad for this weekend's game. Spurs are expected to make one last improved offer of around £25m, but the ball will firmly be in West Brom's court for this particular transfer.