Karim Benzema To Stay Put At Real Madrid
Posted on August 26, 2015 by Sreya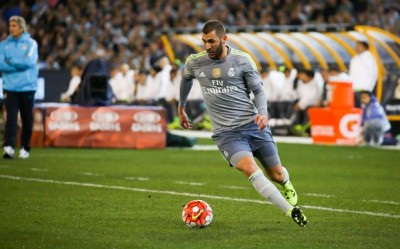 Karim Benzema has squashed all rumours of a potential sale with a tweet earlier this week. The French centre forward had been vehemently linked to Arsenal in the weeks leading up to the new season, with some media sources even speculating that the Gunners may have to enter in a bidding war with Manchester United to secure Benzema's services.
The 27-year-old joined Real Madrid from Ligue 1 club Lyon in 2009 and has been a constant feature in the Los Blancos squad ever since. Benzema had a modest 2014/15 season and missed some of the crucial matches in the business end through injuries.
Arsenal, who are actively on the look-out for a strike partner for Olivier Giroud, were rumoured to be interested in bringing Benzema to London. Real Madrid boss Rafael Benitez had labelled the player as an integral part of the squad and the sentiment was echoed through Benzema's own tweet.
Real Madrid are lacking considerable depth at the centre forward position with Jese as the only true alternative in the squad. Benzema had chosen to remain silent in face of all speculations, but finally hit out via social media, when the rumours of an impending move gathered pace. The forward missed Real Madrid's draw against Sporting Gijon on opening day through an injury, but is expected to make a return to the matchday squad against Real Betis this weekend.