Venezuela target bronze consolation at Copa America
Posted on July 23, 2011 by SoccerPunter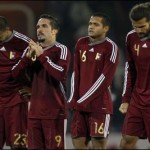 Heartbroken
Venezuela
are determined to capture bronze in Saturday's
Copa America
third place play-off against
Peru
despite believing they should really be featuring in Sunday's final against Uruguay.
Venezuela's plucky campaign was finally derailed in the semi-finals in a penalty shoot-out by Paraguay after a match where they hit the woodwork three times and had a goal disallowed.
View Head to Head for Venezuela vs Peru.
Despite their lingering disappointment at the cruellest of exits, coach Cesar Farias and his men will be fired up to beat Peru, not least as President Hugo Chavez continues to laud them with constant eulogies via Twitter.
"You were great – what an honour," he said Thursday of a showing which left them undefeated, the penalties aside, throughout the tournament which they had opened by holding Brazil to a draw.
"They robbed us of a winner," added Chavez from Cuba, where he is undergoing treatment for cancer, referring to Oswaldo Vizcarrondo's ruled out header for offside.
Chavez has threatened to take the matter to the South American Football Confederation – whose head is Nicolas Leoz – a Paraguayan.
Lady Luck may be backing the Paraguayans – who survived another penalty drama in the quarters to see off holders Brazil, but the Venezuelans want to go out with a bang, says Farias, rallying his side in the face of adversity.
"Look, we've been the away team (in terms of fan numbers) in most of the games and you can factor in the climate too," with the tournament taking place in a chilly Argentinian mid-winter.
The Peru game may end a chapter but not the overall story, adds Farias, promising more to come regardless of Saturday's outcome.
"If we can become strong at home then we will have many possibilities to qualify for the 2014 World Cup in warmer Brazil," he said.
Venezuela are to date the only South American country never to appear at the finals.
Peru themselves turned the form book upside down as far as the semis were concerned before finding Uruguay a bridge too far.
They finished rock bottom of the last World Cup qualifiers – Venezuela were third bottom – but under Uruguayan coach Sergio Markarian they have earned new respect.
"We have turned in a dignified showing and we can take away a number of positives," said Markarian, who, along with all coaches at the tournament, came in with one eye fixed firmly on 2014.
With Saturday a chance to weigh up his options for the next cycle, comprising the two-year, 18-match World Cup qualifying programme, Markarian says he will make "several changes".
One will be enforced with combative midfielder Juan Vargas suspended.
Conversely, Farias can bring back Tomas Rincon, dismissed in the win over Chile, back into his midfield though Giacomo Di Giorgi acquitted himself well against the Paraguayans.
When the pair met in the 2010 World Cup qualifiers Venezuela won 3-1 at home but went down 1-0 away.