Singapore beat Malaysia 5-3 in World Cup Asia Qualifier
Posted on July 24, 2011 by SoccerPunter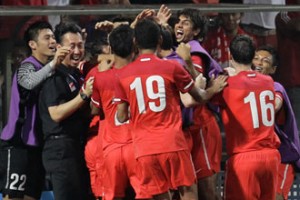 Singapore beat Malaysia 5-3 in their first leg of World Cup 2014 Asia Qualifier match at the Jalan Besar Stadium on Saturday.
The Tigers scored the first goal barely 24 seconds after the opening whistle through Mohd Safee Mohd Sali but the Lions equalised shortly.
The Lions' relentless attack earned them a dangerous freekick just outside the box in the seventh minute. Aleksandar Duric converted the free kick to level the score 1-1.
After that, it was no looking back for the Lions as they scored their second, third and fourth goals to lead Malaysia 4-1 at half time.
SoccerPunter's comments:

Team Singapore need to improve their defensive system if they want to remain in this tournament. It is unacceptable for a team to allow their opposition to score two goals within two minutes.
In the second half, Malaysia fightback to score two more goals to reduce Singapore's lead to 4-3.
But the Lions ensured victory by scoring their fifth goal through Duric to win the match 5-3 at full time whistle.
With the win, a tougher challenge awaits Malaysia on their return leg in Bukit Jalil in Kuala Lumpur next Thursday 28 July 2011.
Malaysian head coach K Rajagobal said after the match: "We know the mistakes and there is no way that we can do this again if we want to do something in Bukit Jalil, which I think will be very different. When my players can put that energy in when they were 4-1 down, I don't see why the players should not have the confidence and hope for a turnaround."
Singapore coach Raddy Avramovic praised the energy and effort shown by both sides.
He said: "We were expecting in the second half that Malaysia will attack us from the sides. We tried to wake up in some way the players and tell them that it is another 45 minutes. But I think all the players, ours and Malaysia's, they really gave 100 per cent to this game. And you can see that they were really tired when the game ended."
Goal Scorers:
Singapore – Aleksandar Duric (8, 81); Qiu Li (22); Mustafic Fahrudin (44); Shi Jiayi (45)
Malaysia – Mohd Safee Mohd Sali (1, 71); Abdul Hadi Yahaya (70)
View all the match fixtures and results of World Cup 2014 Asia Qualifiers