Barcelona sign Alexis Sanchez for 26 millions euros
Posted on July 22, 2011 by SoccerPunter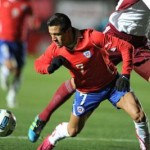 Spanish
and European champions
Barcelona
have reached a deal with
Italian
club
Udinese
to buy
Chilean
striker Alexis Sanchez for 26 million euros, it announced Thursday.
The 22-year-old will sign a five-year contract, the club said in a statement on their website.
"Barcelona and Udinese have reached an agreement on the transfer of Alexis Sanchez. The deal is for five years. The cost of the transfer is 26 million euros," said the statement.
The deal could be worth a total of 37.5 million euros depending on appearances.
Sanchez, who will be the first Chilean to play for the club, will undergo a medical test, sign the contract and be presented on Monday.
Sanchez has played for Udinese since 2008 and last season was voted best player in Serie A, after scoring 12 goals in 31 games.
The player had also been linked with English sides Manchester United and Manchester City, but said last month that he wanted "Barcelona or nothing".
He "has been sought by the best teams in the world. However, he has been strongly committed to playing for Barca," the statement said.
Barca coach Pep Guardiola said this week that his priority for the upcoming season was signing a forward, with Sanchez his top target.
"He is a very young player, can play in three attacking positions, has a lot of intensity in defence, very vertical, unbalancing, and from what I've been told he's a very good guy," he told a news conference on Tuesday.
The signing is the first of the new season for Barca, where Sanchez will join the likes of Argentine star Lionel Messi and Spain's David Villa.
Guardiola has also said is not giving up the fight to sign midfielder Cesc Fabregas from Arsenal despite the determination by Gunners' boss Arsene Wenger to hold on to his captain.
"There is still time," before the pre-season transfer window closes on August 31.
"We will try to reach a deal" on the 24-year-old, he told Tuesday's news conference.
The club starts a pre-season tour of the United States with a friendly against Manchester United in Landover, Maryland on July 30.
The Spanish league kicks off on August 21, when Barcelona visit Malaga.