Mexico Win CONCACAF Gold Cup
Posted on July 27, 2015 by Sreya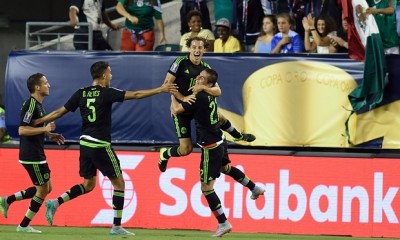 Mexico won their seventh Gold Cup in a 3-1 victory over Jamaica in front of the 68,000+ sell-out crowd at Philadelphia's Lincoln Financial Field. It was a comprehensive win on Mexico's part, in spite of the controversial decisions surrounding the El Tri in the build-up to the final.
Jamaica, who pulled off an upset against the USMNT in the semi-finals last week, started brightly with a free kick from a dangerous position which sailed inches wide, as Jobi McAnuff had his shirt pulled by Jesus Duenas. The Mexican defender received an early caution for his offence. Jamaica also had another chance to take the lead when Dawkins scuffed his shot from within the box, after Barnes had put in an exquisite cross.
The momentum began to shift in Mexico's favour soon after as 's side began the threaten the Jamaican goal. Mexico expertly utilized the space between the channels as their pace on the wings complicated matters for the Reggae Boyz. Ryan Thompson was called into action for quite a few times in a short span, with his aerial prowess helping the score remain goalless.
Soon after, Guardado scored from a short free kick with a smashing volley. Mexico missed an easy chance to double the lead though, with Jesus Corona shooting inches wide. Jamaica threatened on the counter, but looked disorganized while defending in numbers against Mexico.
Second half's play restarted with Jamaica looking to get back into the game, but Winfried Schafer's side was further pegged back when Corona orchestrated a turnover, winning the ball off Austin and slotting it past an outstretched Thompson. At the hour mark, a defensive error from Hector allowed Peralta through on goal, who scored an easy goal to give Mexico an almost unassailable 3-0 lead.
The El Tri almost scored their forth goal through Peralta who had unleashed a thundering strike, only to be kept out by a wonder save from Thomspon. Jamaica got a consolation goal ten minutes from full-time through Darren Mattocks, who buried a well-taken shot past Ochoa. Mexico saw out the remainder of the game with ease, as Jamaica failed to create any more chances.
Mexico's win in the final was in stark contrast to its performances in the earlier knockout games, when it received three penalty calls, two of which were dubbed controversial by fans and pundits alike. Mexico will now face United States in October to win automatic qualification to the 2017 FIFA Confederations Cup in Russia.