Mexico vs Trinidad and Tobago – CONCACAF Gold Cup – Preview
Posted on July 15, 2015 by Sreya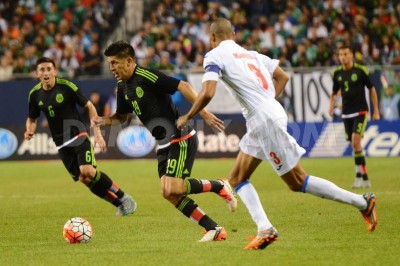 The first place in Group C of CONCACAF Gold Cup will be on the line on 15th July, 2015 (Wednesday) when group leaders Trinidad and Tobago face the second-placed Mexico at the Bank of America Stadium, Charlotte, North Carolina in the final Group C fixture.
Trinidad and Tobago, also popularly known as the Soca Warriors, have been the surprise revelation of the 2015 CONCACAF Gold Cup and have already booked a berth in the quarter-finals scheduled to begin on 18th July. Trinidad and Tobago have already won its matches against Cuba and Guatemala, beating both sides by a margin of two goals. Mexico, on the contrary, dispatched Cuba putting six past them but failed to break the deadlock against Guatemala in spite of a number of clear-cut chances this past Sunday.
Guatemala will have to make up an eight goal difference and Mexico have to lose its match against Trinidad and Tobago, for the El Tri to get knocked out of the competition, which seems thoroughly unlikely, and due to which both this sides will be playing their quarter-final at the MetLife Stadium on Sunday. However, the group winners will face the third-placed team from Group A or B while the group runners-up faces the Group B runners-up.
Mexico's bone of contention against ten-man Guatemala was their poor finishing. The El Tri, who had not failed to score in 32 Gold Cup matches before last Sunday, need to be a lot more clinical against Trinidad and Tobago, if they have to turn around a corner. Carlos Vela and Oribe Peralta will be crucial to Mexico's chances, the former having scored a hattrick against Cuba. Giovani dos Santos will be Mexico's key player with the 26-year-old Villareal attacking midfielder acting as the creative outlet for the Mexico team.
Trinidad and Tobago have been a force to reckon with in the first two matches, but Stephen Hart's side will do well to avoid any sorts of complacency. For the Soca Warriors, a number of players have been key to their success, like Cordell Cato and Joevin Jones. The most significant member, however, is the 24-year-old defender Sheldon Bateau, who has not only been a component of one of the stringiest defensive units in this year's Gold Cup, but also has scored in both of Trindad and Tobago's games.
Contributor's Pick
According to Head-2-Head statistics, Mexico have won 64% of its encounters against Trinidad and Tobago, but based on current form, the match could be a 1-1 draw.