Bayern Munich To Sign Arturo Vidal
Posted on July 17, 2015 by Sreya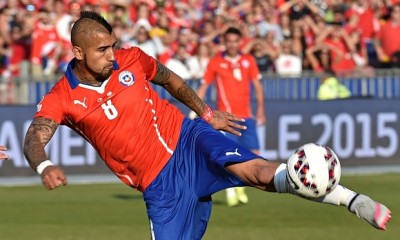 The Bundesliga champions Bayern Munich are closing in on Arturo Vidal, whom Pep Guardiola had identified as the replacement for Bastian Schweinsteiger, who departed on a €20m fee to Manchester United.
Juventus had rejected an initial €30m bid from Bayern and demanded €45m for the Chilean's transfer, but both clubs have reached an agreement at €37m, with a further sum of €3m as add-ons. Arturo Vidal, who recently helped Chile win the 2015 Copa America, had joined the Serie A champions in 2011 from Bayer Leverkusen. One of the premier central midfielders in Europe, Vidal was heavily linked to Manchester United last summer, but Juventus refused to sell at any price.
Wholesale changes have taken place in Turin this summer, with the Champions League finalists changing the structure of their squad. Carlos Tevez has already left for Boca Juniors while Juventus have completed the signings of Paulo Dyabala, Sami Khedira and Mario Mandzukic. Juventus have identified Chelsea's Oscar, Schalke's Julian Draxler and Porto's Alex Sandro as potential replacements for Arturo Vidal.
Pep Guardiola's side, on the other hand, would immensely benefit from Vidal's skill set as Bayern Munich struggled to stamp their authority in UEFA Champions League last season. Juventus' Player of the Year in 2012/13 season, Vidal can play anywhere across the central midfield but is at his best, when asked to drive forward with the ball. Vidal's all-round abilities in the midfield will provide solidarity to the Bayern first-team and a variety to the tactical setup of the German club.
Bayern Munich have also completed the signing of Douglas Costa from Shakhtar Donetsk this summer.