Messi named FIFA World Player of the Year
Posted on January 12, 2011 by SoccerPunter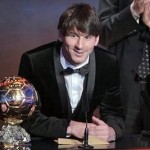 Argentinian Lionel Messi won the Ballon D'Or for the second successive year on Monday beating his more favoured Barcelona team-mates Andres Iniesta and Xavi.
The 23-year-old – the first player to win back-to-back awards since Marco van Basten in 1988/89 – had been seen as the outsider after a modest World Cup where he failed to score and Argentina went out in the quarter-finals.
Iniesta and Xavi both had outstanding World Cups with the former scoring the only goal in the 1-0 World Cup final victory over Holland.
Messi won with 22.65 percent of the votes cast, with Iniesta on 17.36 percent and Xavi third with 16.48 percent.
Inter Milan and Dutch playmaker Wesley Sneijder, who was a controversial omission from the short list, came in fourth with 14.48 percent.
Messi admitted that he desperately wanted to improve his record with Argentina, with whom he has never won a title.
"In 2011, I want to win my first title with the national side," he said.
"And as a result I asked Father Christmas to give me the present of the Copa America (which takes place this year in Argentina).
"I am going to do my utmost to win it. It is the gift I want to give to all Argentinians. My compatriots deserve a great year."
FIFA President Sepp Blatter, who along with FIFA has come under fire already for the decision to award Qatar the 2022 World Cup finals, had trumpeted Messi's claims only last week.
"No-one can deny that Lionel Messi is an exceptional player," said the Swiss, who didn't enjoy a great Monday as Guenter Hirsch, a former head of Germany's highest court, resigned from FIFA's Ethics Committee as he questioned the will of football's top body to uphold its own rulebook.
This latest edition of the Ballon d'Or saw major changes to the way the title is nominated.
Set up in 1956 by France Football magazine the Ballon d'Or merged with FIFA's world player of the year award for the first time.
The voting committee, up to now made up of only journalists, now includes all the managers and captains of the 208 national sides affiliated to FIFA.