Asian Cup: Defending Champions Iraq lose to Iran
Posted on January 12, 2011 by SoccerPunter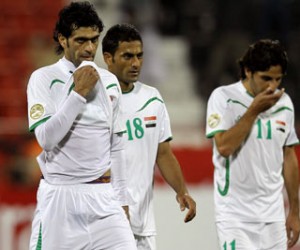 Reigning champions Iraq were licking their wounds on Wednesday after going down 2-1 to great rivals Iran at the Asian Cup despite taking an early lead and having the better of the opening exchanges.
Iraq's German coach Wolfgang Sidka did his best not to look too downbeat after the loss late Tuesday and attempted to suggest defeat by Iran was no different to losing any other match.
Fans in the war-torn but football-mad country might beg to differ.
"The defeat is like losing against any other team and the most important thing is that we lost three points," said Sidka, a former Werder Bremen midfielder.
With war raging back home, Iraq defeated Saudi Arabia 1-0 in the final in 2007 to lift the Asian Cup against all expectations, making headlines worldwide.
But there is a general feeling that the team peaked then and they find themselves after the first game bottom of a highly competitive Group D that also includes North Korea and the United Arab Emirates which drew 0-0 on Tuesday.
Iraq face the UAE – considered the weakest team of the group ahead of the tournament – on Saturday. Another defeat for Iraq would leave them in serious trouble.
Sidka described the match between two countries who went to war from 1980 to 1988 as one of the most exciting of the tournament so far.
"It was as expected a tough match," said the German.
"The game was one of the toughest and most exciting matches here and there was a lot of fighting spirit shown in the game.
"I think that Iran played very well and it was a match of the same level. We created some chances and for me it was a 50-50 game.
"However, what we missed was ball retention and it was difficult to pass the ball around because Iran put pressure on us in the second-half."
His side should have taken the lead after just four minutes when star striker Younis Mahmoud was clean through on goal, but Iran keeper Mahdi Rahmati denied him.
Mahmoud, joint top scorer four years ago, made amends on 13 minutes when he slid in at the far post to score from close range after Emad Mohammed had cleverly nodded the ball back across goal.
But Iran, the three-times winners who have not held the trophy since 1976, gradually warmed to the task at a half-full Al-Rayyan Stadium and were level on 42 minutes when Gholam Reza Rezai rifled in unchallenged.
The second period was not as entertaining, but just when it looked like the game was heading towards a draw, Iman Mobali's free-kick crept in past a flat-footed Mohammed Kassid six minutes from time.
"It was a good end for Iran but the goal that we conceded was from an unnecessary foul and we knew before the match that they were dangerous from free-kicks," said Sidka.