Manchester City Frontrunners For Raheem Sterling's Signature
Posted on May 19, 2015 by Sreya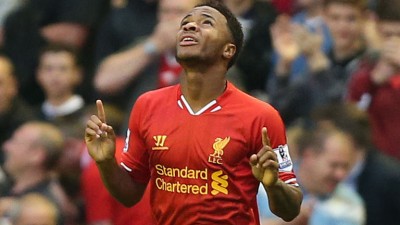 Raheem Sterling's contract status has been a bone of contention with Liverpool supporters throughout the season. The 20-year-old Englishman who has frequently played as a forward for Liverpool this season is set to resume contract talks in summer.
According to Sky Sports, Raheem Sterling is set to refuse any and every offer Liverpool makes, for the highly-rated forward/winger has set his sights on Champions League football, and would like to feature for a club which regularly challenges for trophies.
Sterling reportedly refused a £100,000-per-week contract earlier in the season. Here is what Sterling's agent, Aidy Ward had to say in relation to the rumours.
"The story has been blown somewhat out of proportion. Raheem and his representatives have a meeting scheduled with Liverpool later this week, and we will take proceedings from there."
– Aidy Ward
Sterling has still two years to run on his contract, but if he refuses to sign a new deal, it is extremely likely he will be on the move this summer rather than next. Raheem Sterling has scored 11 goals this season and also has 10 assists next to his name.
It is not surprising by any means that Sterling will have a host of potential suitors, should he choose to leave Anfield. Manchester City are in pole position to secure Sterling's signatures as Pellegrini looks to rebuild the side in the quest for regaining the Premier League title. While the likes of Chelsea, Manchester United and Arsenal have also been linked to the youngster, City have the means to outbid everyone else and also provide Sterling with a high wage, in addition to his potentially astronomical transfer fee.