Is Petr Cech The Final Piece Of Arsenal's Puzzle?
Posted on July 1, 2015 by Sreya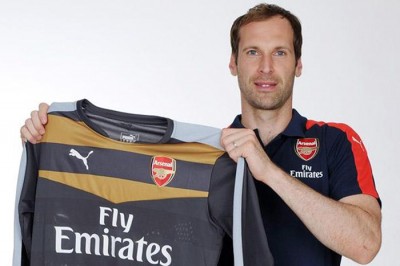 Arsenal secured the signing of 33-year-old Petr Cech from Chelsea on Monday. The Czech goalkeeper who is a four-times Premier League winner with Chelsea, came to England in summer of 2004 and immediately took over the starting slot in Jose Mourinho's side.
One of the best goalkeepers of this generation, Cech kept a record 24 clean sheets in his first season in England and has rarely been sub-par. He played a pivotal role in each of the 15 trophies he won with Chelsea. Consistency, supreme reflexes and excellent reading of the game have been Cech's strengths throughout his career. The ultimate winner, Cech's reliability between the sticks was significant in Chelsea's success over their English contemporaries in the last decade.
It is no secret that goalkeepers age better than outfield players and Cech is relatively young at 33. Manchester United had signed Edwin van der Sar when the Dutch was already 35 and van der Sar won a number of trophies with Ferguson's side. Arsenal have struggled to find stability in the goalkeeping position in the last few seasons. The gloves have changed hands from Luis Fabianski to Wozjiech Szczesny to David Ospina. The Colombian goalkeeper was at his absolute best in the second phase of the 2014/15 season as Arsenal presented a formidable challenge for the Premier League championship.
Arsene Wenger has been slowly but steadily assembling a squad capable of winning the league. Over the last few seasons, Arsenal have amassed some exquisite talent in the form of Olivier Giroud, Mesut Ozil and Alexis Sanchez. Sanchez's arrival truly catapulted Arsenal into the league of title-challenging clubs from the comforts of a mere Champions League qualifier. When combined with Santi Cazorla's rise of fortunes and Aaron Ramsey's coming-of-age consistency, Arsenal have one of the devastating midfields in England at the moment.
A number of youngsters have come through the ranks as well in the mould of Hector Bellerin and Kieran Gibbs. The most influential though has been Francis Coquelin, who lay at the heart of every positive Arsene Wenger's side achieved last season, starting from the defining win against Manchester City at the Etihad in February.
Arsenal needed a goalkeeper at the highest level and signed the best player available in market, for relative peanuts. In Petr Cech arrives, a tried and tested Premier League veteran with the winning mentality, a cool customer with at least four more years of service, who will further alleviate Arsenal's status in the Premier League.
A few more signings to enhance the depth of the squad and Arsenal will surely present a formidable challenge to Chelsea for the Premier League title.