Chile Progress To Copa America Finals
Posted on June 30, 2015 by Sreya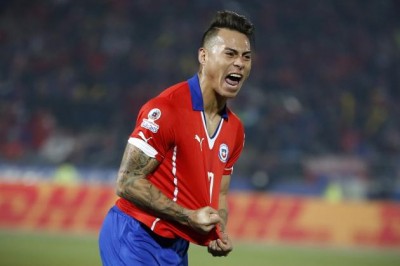 Chile progressed to the finals of the 2015 Copa America after an Eduardo Vargas brace sealed a 2-1 victory against South American neighbours Peru. The hosts qualified for the final for the first time in 28 years, as Peru bowed out with their heads held high, after an early refereeing decision created controversy and tilted the tie in Chile's favour.
Team News
Chile Starting Eleven: Claudio Bravo; Mauricio Isla, Gary Medel, Rojas, Albornoz; Marcelo Díaz, Charles Aránguiz, Arturo Vidal; Jorge Valdivia; Alexis Sánchez, Eduardo Vargas.
Peru Starting Eleven: Pedro Gallese; Luis Advíncula, Carlos Zambrano, Carlos Ascues, Juan Manuel Vargas; Jefferson Farfán, Jospemir Ballón, Carlos Lobatón, Christian Cueva; Andre Carrillo, Paolo Guerrero.
Game Summary
Zambrano's red card just twenty minutes into the game overshadowed much of the exhilarating football both nations displayed. Carlos Zambrano was punished for a high tackle on Aranguiz, which was actually a result of his follow-through on the ball he tried to hoof. Even the ardent of Chile supporters would agree it was a harsh decision on the referee's part. The visitors were aggrieved and rightly so. For the second time in consecutive games, Chile's opponents had been shown a debatable red card.
Peru did not let Zambrano's dismissal affect them and matched Chile for ball after ball, tackle after tackle, fighting for every inch of the field of play. It looked like the first half would end goalless, but Eduardo Vargas put the hosts ahead three minutes from halftime after an Alexis Sanchez cross hit the post and came back for the Chile forward to slot in. The officials were not redeemed however. Television replays suggested Vargas was marginally offside.
Peru went into the half-time, hard done by circumstances. Nightmare continued for the officials, as a legit strike from Vargas was denied on grounds of the Chilean being offside. Peru responded to the pressure inflicted by Chile with some swift, precise counter-attacking play. It was a portrayal of South American football at its best, with both teams looking to score.
Peru were eventually paid for their effort at the hour mark, as a cross from Luis Advincula went in off Gary Medel's boot, after Guerrero had set up Advincula on the flank with a defense-splitting pass. The Chilean supporters were shell-shocked, but the players recovered from their stupor soon after, as Alexis Sanchez and Arturo Vidal led the charge for a winner.
Eduardo Vargas scored a stunner from 30 yards, a shot which swerved and dipped, just out of Gallese's reach. Peru failed to create any more chances and Chile marched their way into the finals.
The hosts, who are yet to win the Copa America in 99 years, will face the winners of Argentina and Paraguay at Santiago later this week.