Gael Clichy quits Arsenal to join Manchester City
Posted on July 5, 2011 by SoccerPunter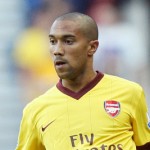 Gael Clichy on Monday joined
Manchester City
from
English Premier League
rivals
Arsenal
on a four-year deal for an undisclosed fee, reportedly in the region of £7 million.
The French left-back will now challenge Aleksandar Kolarov for a regular spot in Roberto Mancini's starting side.
Clichy spent nearly eight years at Arsenal and his move to big-spending City is bound to be seen as a comment on the status of the two clubs.
Last season City pipped Arsenal to third place in the league and won the FA Cup as the Gunners trophy drought, which stretches back to 2005, continued.
Now Clichy is the latest Arsenal "old boy" at Eastlands where his team-mates will include Patrick Vieira, Kolo Toure and Emmanuel Adebayor.
"I'm really happy to be joining such a great club," Clichy told City's official website. "I hope I can add to the quality we already have here because we have a fantastic squad who I believe will continue to get better.
"I can't wait to get started and I think anything is possible with this team."
Clichy added he was delighted to be linking up again with two of his closest friends in football in Toure and Vieira.
"When I first came to England, it was Kolo Toure and Patrick Vieira who took me under their wing and really looked after me," he said.
"Kolo would pick me up and drop me at home and his wife used to cook meals for me. Patrick was always there to offer me advice so it's wonderful to be back and at the same club they are at."
Clichy, 25, made 264 appearances for Arsenal after signing from French club Cannes in August 2003.
He has won 10 caps for France to date, the last in 2010, and he was a member of Arsenal's "Invincibles" team that won the 2003/04 Premier League without losing a single game.
That meant the then 18-year-old Clichy won a championship medal, making him the youngest recipient in Premier League history.
Clichy initially found himself acting as cover for Ashley Cole at Arsenal before the England man's move across London to Chelsea saw him become a first-team regular.