Blatter vows to ban match-fixing culprits in Asia
Posted on July 6, 2011 by SoccerPunter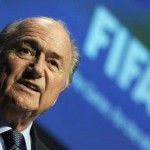 FIFA president Sepp Blatter warned on Monday that football players and officials found guilty in the ongoing probe into a
match-fixing
scandal in Asia would face life bans.
"When those people are condemned and found guilty, we will ban them for life, whether they are players or administrators," Blatter told a news conference, before heading to South Africa for the meeting of the International Olympic Committee (IOC).
"They will not be allowed back into football," added Blatter, who was on his first visit to the country.
Zimbabwe is under investigation by FIFA over an alleged match-fixing scam in Asia involving the national team.
In 2009, former Zimbabwe Football Association (ZIFA) chief executive Henrietta Rushwaya sent the national team to play unsanctioned friendlies in Thailand, Syria and Malaysia linked to a betting syndicate.
Rushwaya was subsequently fired for her actions in October last year.
She is also said to have cleared former top league champions Monomotapa to travel to Malaysia, where they masqueraded as the national team.
"We are here dealing with criminal law and with the FIFA statutes," said Blatter.
Blatter met with local football officials but details of the meeting were not disclosed.
A FIFA anti-graft team had been expected last week in Harare.