Cole believes Villas-Boas can deliver results for Chelsea
Posted on July 5, 2011 by SoccerPunter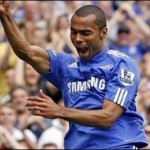 Chelsea
defender Ashley Cole has insisted age is just a number as he gets used to life under new Blues manager Andre Villas-Boas.
At 33, the Portuguese is the youngest boss in the English Premier League after Chelsea sacked veteran Italian manager Carlo Ancelotti following a season without silverware last term.
There are concerns Villas-Boas, formerly in charge of hometown club Porto, will struggle to impose his authority on a dressing room where several players are around his own age.
But 30-year-old England defender Cole said Villas-Boas, who previously worked at Chelsea as a member of Jose Mourinho's backroom staff, will have no difficulties adjusting to his new role at Stamford Bridge.
"Age is just a number, he has experience of being at Porto, a big club," Cole told Sky Sports on Monday.
"Hopefully he can bring that glory to Chelsea, but I don't think the age thing is anything to worry about, I don't think the players think about that. He is our manager now and we have to go out and fight for him.
"Whatever manager comes in we respect him, we are not kids, everyone thinks there are egos at Chelsea, but there aren't and we have to make Chelsea the squad of a few years ago and win trophies."
Chelsea, bankrolled by Russian billionaire Roman Abramovich, finished second but nine points behind Premier League champions Manchester United last season and Cole is expecting Villas-Boas to strengthen the Londoners' squad.
"We just fell short last season, we had a lot of injuries so hopefully if we do bring players in we can strengthen the squad and kick on because we've got so many great players at Chelsea that we should be winning the league two times on the trot, which we didn't," said full-back Cole.
"I think all teams would love to see fresh faces, but the age thing, it creeps up on players and as you get older you get knocks more and things like that.
"But they're very professional players at Chelsea and if we can add to that with maybe some younger players I don't see why we can't improve on last season and win the league, win the Champions League and win the FA Cup because we've got the players to do it.
"A lot of players' dreams are to win the Champions League. I have played in two finals, but of course we want to win — we want to win any trophy."
Meanwhile Cole, whose relationship with former wife and pop star Cheryl Cole continues to be a source of fascination for Britain's tabloids, and who found himself making front page headlines earlier this year for a training ground incident where he shot a work experience student with an air rifle, admitted he had occasionally got things wrong.
"I have made mistakes and have just got to live with it.
"I just wish people would judge me more on football and speak about football more than a life that people don't really know."
Cole continued: "If someone had actually seen the (shooting) incident — you wouldn't laugh because it was a stupid thing to do — but the whole situation was crazy. Of course it was an accident.
"But if I wanted to address every single thing in the paper I'd lose my mind. It makes me crazy now when I hear things.
"I'm just here to play football. That's all I want to do."