Farewell, Steven Gerrard
Posted on May 17, 2015 by Sreya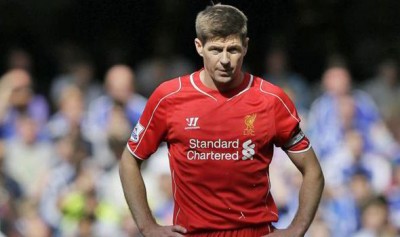 Steven Gerrard bid an emotional adieu to scores of Liverpool supporters at Anfield yesterday, after he took the field at the home of the Merseyside club, for one last time in his career.
Gerrard, who joined the Liverpool academy at the young age of nine, made his first-team debut for the Kops in 1998. Locking down a regular place in the starting XI by 2000, the Englishman's club career has seen both brilliant highs and startling lows over the course of the seventeen seasons he has been at Merseyside. One of the finest midfielders of his generation, Steven Gerrard was named the UEFA Club Footballer of the Year in 2005.
Over 750 club appearances, over a hundred caps for England, a combined 200+ goals in his career, Gerrard's all-round abilities made him a unique central midfielder. An excellent set-piece taker, Gerrard could play a host of positions in the midfield and even started as a second striker early in his career. His playmaking abilities, penchant for Hollywood passes and adept reading of the game has allowed Gerrard to perform with finesse and success in the top flight for almost two decades.
Steven Gerrard's lasting legacy will be his impeccable display in the second half of the 2004/05 UEFA Champions League final against AC Milan. If Liverpool could pull off the 'Miracle of Istanbul', overcoming a three goal deficit, Steven Gerrard was the miracle worker.
The absence of a Premier League medal from his list of honours will always haunt him, but it would do nothing to dent the legacy of this Anfield legend. Gerrard has not always been perfect. He slowed down with age, his awkward back passes at crucial junctures in matches and the infamous slip against Chelsea, which surely robbed the Kops of a Premier League win last season simply reiterate the fact that Gerrard is human.
Crystal Palace had earlier dampened the mood for the party with their remarkable 3-1 win, but all was forgotten when the pitch announcer read the tribute to Gerrard. It was an emotional moment for not only the Liverpool faithful, but for the man himself when he stepped onto the pitch one last time, touching the "This is Anfield" sign in the tunnel, three daughters in tow. As the kaleidoscope formations began and the banners unfurled in the stands, time definitely came to a stop for the Englishman.
'I've lived my life for Liverpool FC – it's been a privilege to captain our club.' – Steven Gerrard
Steven Gerrard has symbolized Liverpool FC in the truest sense over the last seventeen years – fallible but extraordinary, human but magical. In the end, he will be remembered for all the iconic moments he produced when he embodied the Kop spirit "You'll Never Walk Alone."