Ernesto Valverde is new Barcelona Manager
Posted on May 31, 2017 by Sreya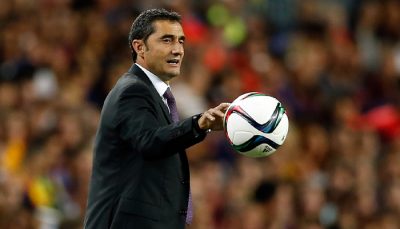 Ernesto Valverde has been appointed the new Barcelona manager, with Luis Enrique departing the club after three years at the helm. Barcelona only managed to win the Copa Del Rey this season, defeating Alaves 3-1 this past weekend but Luis Enrique had announced back in March that he won't be at the Catalan club beyond his initial three-year tenure.
Luis Enrique's time at the Catalan club has been fraught with controversies, surrounding his man-management of the superstars in the Barcelona as well as his tactics in the big games, especially in Europe.
It did not surprise many when Enrique announced he would leave Barcelona at the end of the just-finished season, but the new appointment has raised a few eyebrows for sure.
Barcelona were not the frontrunners for the La Liga for the majority of the 2016/17 season and although a 3-2 win in the latest El Clasico helped them to close the gap on Zinedine Zidane's side, the league title was always Real Madrid's to lose.
Barcelona's performances in the UEFA Champions League was not particularly promising either, with the club conceding goals in galore. Although Lionel Messi and co. could salvage their tie against Paris Saint-Germain, they were outsmarted and outclassed by Juventus.
A change was in the offing and Ernesto Valverde, an Athletic Bilbao legend by all means, is set to take the reigns. A former Barcelona player, who spent two seasons at the Catalan club, has been the foremost figure in the Bilbao dressing room for the last few seasons. Known for his knack of promoting talented youngsters, considering the Basque club's player policy, Valverde is a perfect fit for the Barcelona setup.
A par excellence tactician, Valverde's mettle in the Spanish top flight will prove to be valuable as Barcelona look to tackle Real Madrid's recent dominance in Europe. While most of the eyes will be on how the transfer season shapes up for Barcelona, the key will most definitely be behind the scenes, for the club has most of the components needed for European domination.
Ernesto Valverde has all the ingredients to succeed at this high-profile job, but whether he comes out on top, only time will tell.