Arsene Wenger Signs A New Arsenal Contract
Posted on June 1, 2017 by Sreya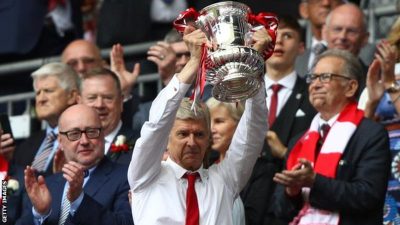 Arsene Wenger has signed a new Arsenal contract which will keep the Frenchman for another two seasons at the London club. Speculations were rife about his future and Wenger decided to postpone his decision until after the season ended.
For the first time since the inception of the Premier League, Arsenal have failed to finish in the 'top four' and will miss out on UEFA Champions League next season.
Although the Gooners will be contesting in the UEFA Europa League, Arsenal's repeated submission in the conquest for league title have left fans exasperated with many a supporter calling for a change of manager at the North London club.
A late charge in the English Premier League was not sufficient to cover up Arsenal's mid-season blunders when it came to finishing in 'top four', however, the club's brilliant performance in the FA Cup final against Chelsea with all odds stacked against them, was the precursor for Arsene Wenger getting offered a new deal at the club.
"I love this club and I am looking forward to the future with optimism and excitement. This is a strong group of players and with some additions, we can be even more successful. We're committed to mounting a sustained league challenge and that will be our focus this summer and next season."

– Arsene Wenger, Arsenal.
Arsene Wenger has got huge challenges ahead, not only in terms of strengthening the squad in the transfer market but also making them a realistic contender for the league title. Keeping hold of Mesut Ozil as well as Alexis Sanchez, the latter being particularly unsettled in the last few months, will be Wenger's first priority.
Arsenal will have to navigate a difficult fixture schedule, especially with Europa League football in their basket and need a deep squad to once again become a force to reckon with in English football. How well Arsenal does will depend as much on Arsene Wenger's tactics on field as it will on how he conducts the business in the transfer window.