Can Leicester City Continue Dream Run?
Posted on April 20, 2015 by Sreya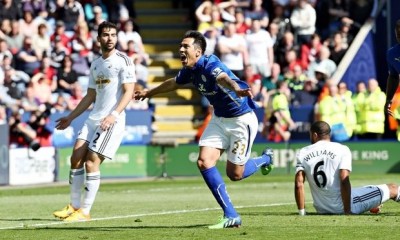 Nigel Pearson's Leicester City claimed their third win in a row in the 2-0 affair against Swansea City at home this weekend and in the process, climbed up the Premier League table by two places.
Leicester had been struggling and were the prime contenders for the wooden spoon even until two weeks ago. After being at the bottom of the table since November last year, Leicester finally climbed up to the 18th place after defeating Swansea.
Pearson's side, promoted to the top rung after finishing top of the Championship last season, has been embroiled in a relegation battle since the start along with fellow new entrées Queens Park Rangers and Burnley throughout the course of the league in 2014/15. Leicester faced Swansea in the first of the five home games in the stretch of the last seven games and the victory over the Swans will not just boost the morale of the side, but also give the Fox faithful a reason to be optimistic as the season draws to a close.
Although Leicester will host league leaders and probable champions Chelsea later this month, they are also visiting Burnley and will welcome Queens Park Rangers on the last Matchday of the season, both of which games could prove to be six-pointers in the closely contested relegation battle.
Leonardo Ulloa's performance against the Swans, especially the goal, will allow Pearson to rest a bit easier, as the Argentine had been suffering from a goalscoring drought prior to that strike. Although manager Nigel Pearson has warned his team against getting carried away and has acknowledged that there is still a lot of work to do, the signs definitely look promising for Leicester City.