Yeung promises to fund Birmingham City
Posted on July 3, 2011 by SoccerPunter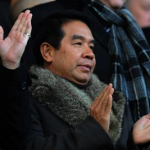 Carson Yeung has assured Birmingham City he will continue to provide financial support for the club despite facing money laundering charges amounting to £57 million ($92 million) in his native Hong Kong.
Blues acting chairman Peter Pannu has flown out to Hong Kong to hold talks with Yeung, released on bail until the next court hearing on August 11.
Pannu insists Yeung will continue to back City, relegated from the lucrative English Premier League last season, and that he hopes to attend the opening game of the season against the Blues' second-tier Midlands rivals Derby on August 6.
"I have met with Carson and have an assurance his support for the club continues," Pannu told the Birmingham Sunday Mercury.
"He will visit once some priorities are sorted out in Hong Kong, hopefully for our first game."
Yeung was required to surrender his passport and report regularly to police as part of his bail conditions.
He was arrested on Wednesday after narcotics bureau officers searched two locations and seized documents.
The charge sheet detailed "five counts of dealing with property known or believed to represent proceeds of an indictable offence", but the nature of the alleged offences was not clear.
Yeung took control of City in October 2009 in an £81 million ($130 million) takeover from David Sullivan and David Gold, now the co-owners of West Ham.
Little was known about Yeung prior to his emergence in English football.
His name first appeared on the Hong Kong stock exchange's record books when he bought a 16.67 per cent stake in clothes company Grandtop International in June 2007, which made him a major shareholder of the firm.
Through Grandtop, Yeung bought a minority stake in Birmingham City from its directors in a deal worth £15 million before later taking full control.
According to several reports, he was trained as a hairdresser in the 1990s before becoming a wealthy businessman with a fortune estimated at $300 million after successful investments in penny stocks.
He rode the Macau gambling boom in 2004 when he co-founded Greek Mythology, a casino in the former Portuguese enclave near Hong Kong.