Argentina held by Bolivia at Copa America
Posted on July 2, 2011 by SoccerPunter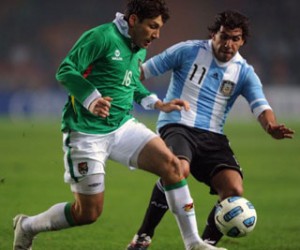 Argentina, bidding to end a trophy drought going back to 1993, kicked off the 43rd Copa America on Friday with a disappointing 1-1 draw with minnows Bolivia at La Plata outside Buenos Aires.
Sergio Aguero, son-in-law of former World Cup-winning idol and Argentina coach Diego Maradona, came on as a second half substitute and promptly rescued a point after naturalised Brazilian Edivaldo Rojas had stunned the hosts by breaking the deadlock just two minutes into the second half.
Click here for Copa America 2011 match fixtures and results
Rojas ghosted in to nudge home following a corner on the left, the ball running under Ever Banega's foot on the line with keeper Sergio Romero beaten.
With Lionel Messi's Barcelona form stubbornly elusive – not for the first time in sky blue and white – Argentina struggled to respond before a spell of pressure finally told as Aguero, on just minutes earlier for Ezequiel Lavezzi, blasted them level on 76 minutes following a Nicolas Burdisso chest down.
The opening 45 minutes had seen Argentina enjoy most of the possession and an early succession of corners which came to nothing, while at the other end a Marcelo Martins freekick ended up in Romero's midriff.
Despite having on paper a highly potent attack in Messi and Carlos Tevez, the hosts looked short on ideas to start with. The Manchester City man was also short on fuse, earning a booking for dissent on 36 minutes.
Happy to be level at the break Bolivia came out with a spring in their step and after Rojas put them a goal to the good Martins should have made it two after 58 minutes.
The striker was clean through on goal but showed too much of the ball to a grateful Romero, leaving coach Gustavo Quinteros fuming on the touchline.
Angel di Maria then drew gasps with a low drive flashing just wide as an equaliser loomed ever larger before Aguero finally delivered.
Argentina will now have to up their game considerably when they meet Colombia at Santa Fe on Wednesday before their final group match against special guests Costa Rica.
Sergio Batista's men came into the tournament under pressure to deliver the goods after their humiliating World Cup defeat at the hands of Germany last summer in South Africa, a loss which saw Batista's former 1986 World Cup-winning teammate Diego Maradona dispensed with as coach.
On Friday, the albiceleste were also mindful of an even worse, if somewhat less public, humiliation which Bolivia visited upon them in the World Cup qualifiers in the pair's last meeting – a 6-1 hiding in La Paz in April 2009, albeit at high altitude.
Even so, the odds were stacked against the visitors, whose only title came on home soil in 1963.
Each of 11 previous face-offs in Buenos Aires went the way of the two-times world champions, with a goal count of 35 for only three conceded but this time they had to make do with stalemate.
Although Brazil, who start their campaign at La Plata on Sunday against Venezuela, have won only eight continental crowns to 14 for Argentina and Uruguay, they have bagged four of the last five editions – Colombia interrupting the sequence in 2001.
However hard both Argentina and Brazil will vie for regional dominance here over the coming month, both countries have an eye primarily on moulding a team for the 2014 World Cup, which Brazil will host for the first time since 1950.
Even so, Batista, who led the Olympic team to gold in Beijing three years ago, has resolved to prevent a third straight Brazilian triumph in the competition at the hosts' expense.
The samba stars defeated this year's hosts in both of the last two finals.