USA Crash Out Of The Gold Cup
Posted on July 23, 2015 by Sreya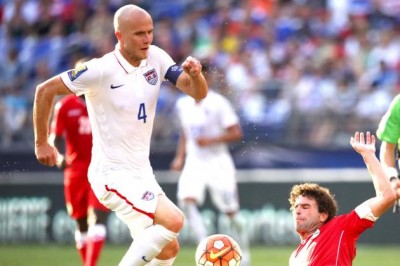 Jamaica pulled off a surprise 2-1 victory over the defending champions USA in the first semi-final of the 2015 CONCACAF Gold Cup. It was an occasion of many firsts for the Caribbean team as the Reggae Boyz made it to their first Gold Cup final, having defeated US only for the second time in history.
Jugen Klinsmann had made only a couple of changes to the side which defeated Cuba 6-0 in the quarter-finals, bringing in John Brooks and Brad Evans in place of Omar Gonzalez and Timmy Chandler. The USMNT made a blazing start to the game, assured in possession and playing a high-tempo game. However, it was Jamaica who drew the first blood, just past the half an hour mark.
Darren Mattocks met a long throw in from Kemar Lawrence, reaching over the hapless John Brooks and headed it past Brad Guzan to give Jamaica the lead. The sell-out crowd at Atlanta was shell-shocked five minutes later when a bizarre mistake from Brad Guzan helped Jamaica to get a 2-0 lead. In a relatively comfortable throw to restart play, Guzan's arm crossed the 18-yard line and the referee correctly awarded the Jamaicans a free kick right at the edge of the box. Giles Barnes slotted in a sumptuous free k above the five-man wall to put Klinsmann's side in an unusual position – trailing the game by two goals before half time for the first time since August 2013.
It seemed goalkeeping blunders were the theme of the match, with Jamaican keeper Ryan Thompson struggling on quite a few occasions. Michael Bradley's goal in the 48th minute came from one such mistake, when Thompson could not gather Aaron Johannsson's shot from 20 metres and pushed Clint Dempsey's rebound onto Bradley's path. Johannsson had previously troubled Thompson when he side-netted a backpass the goalkeeper failed to read.
Klinsmann's side had a host of opportunities, registering 21 shots as compared to Jamaica's 10, but a lack of clinical finishing and the tendency to turnover the ball in the centre of the pitch cost the USMNT dearly. Klinsmann would be under serious pressure now, for the US have failed to reach the finals of the Gold Cup for the first time in 12 years.
USA now have to defeat the Gold Cup champions in October to secure a berth in the 2017 Confederations Cup in Russia and will play the third-place match against the loser of the second semi-final on Saturday. Jamaica plays the winner of the Panama-Mexico match in the finals on Sunday.