Barcelona Beats LA Galaxy 2-1
Posted on July 22, 2015 by Sreya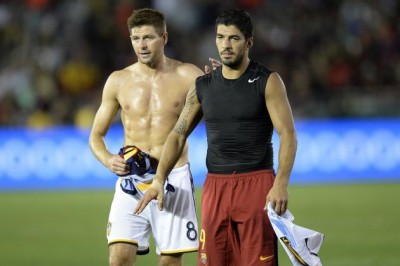 The current European champions Barcelona claimed a 2-1 victory over the defending MLS Champions LA Galaxy, as the Catalan club began its preseason tour with a win in the US edition of the International Champions Cup, in front of a 90,000+ crowd in the Rose Bowl.
Both clubs had a host of players missing. Barcelona arrived in California just two days ago, without Lionel Messi, Neymar, Dani Alves and Claudio Bravo who are yet to join the preseason after their Copa America duties. LA Galaxy missed their four first-team regulars as well as new acquisition Giovani dos Santos, all of whom are away participating in the CONCACAF Gold Cup.
Robbie Keane, MLS's Most Valuable Player and Steven Gerrard started the first half for the MLS club, but a number of youngsters from the LA Galaxy reserve squad took over in the second half, matching toe to toe with Barcelona. Luis Suarez gave Barcelona the lead in the 45th minute, after the Uruguayan latched onto an overhead pass from Marc Batra and slotted it past Rowe, the LA Galaxy goalkeeper.
Andres Iniesta and Gerard Pique also played 45 minutes, being substituted on at half time along with five other changes. Sergi Roberto doubled the lead in the second half. Although Barcelona dominated possession and threatened LA Galaxy's goal, it was a good mid-season test for the MLS club. As reaffirmed by the Galaxy coach Bruce Arena, the experience achieved by the young Galaxy players was invaluable. LA Galaxy even got themselves a consolation goal through Tommy Meyer in stoppage time.
Barcelona will play Manchester United on 25th July at Levi's Stadium in Santa Clara, California.