Szczesny believes Arsenal can cope with title pressure
Posted on April 22, 2011 by SoccerPunter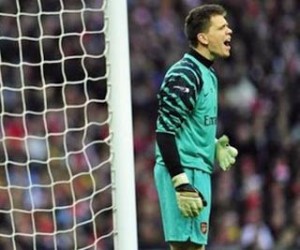 Arsenal goalkeeper Wojciech Szczesny insists his side are mentally strong enough to win the Premier League title race.
Arsene Wenger's side squandered another chance to close the gap on leaders Manchester United as they blew a 3-1 lead in Wednesday's 3-3 draw against Tottenham at White Hart Lane.
Szczesny, 22, was partially responsible for Arsenal's latest meltdown as he conceded the second half penalty converted by Rafael Van der Vaart for Tottenham's equaliser.
Arsenal have now drawn five of their last six league matches and lie six points behind United with just five games to play.
The situation looks bleak for an Arsenal side seemingly incapable of closing out matches, but Szczesny is adamant his team-mates have enough belief and character to cope with the pressures of a title battle.
"Of course we are fighting, when you play at White Hart Lane for Arsenal, you give everything, 110 percent," he told ArsenalTV.
"We came with a belief we were going to win, it did not happen for us, but we can be proud of our attitude.
"We played some fantastic attacking football, especially in the first half and were probably unlucky to go into half-time with only a one-goal lead.
"You are never really in control when you play against Tottenham because it is a war, not just a football game. It is never won until it is won.
"In the second half, they put us under a lot of pressure and deserved a draw.
"We are disappointed because we needed to win the game, but we have to admit it was a fair result."
By the time Arsenal face Bolton on Sunday, United's lead could be nine points should they beat Everton at Old Trafford on Saturday.
Szczesny accepts there is little the Gunners can do but hope United will slip up again and the Polish goalkeeper has called on Arsenal to win their last five matches to at least make Sir Alex Ferguson's team work for the title.
"We know that every time we draw, we drop two points, especially now when we have to catch up Manchester United," he said.
"Thankfully they are dropping points as well, so it is not finished yet.
"It is going to be very difficult, but we are going to fight until the end.
"It is not in our hands any more and has not been for some time, we now have to rely on other teams to take some points off Manchester United.
"But they are not on form and we have to hope they will drop points and focus now on getting the result on Sunday."
Meanwhile, Arsenal captain Cesc Fabregas finally looked close to his best against Spurs after an inconsistent season and the Spanish midfielder hopes his new-found fitness levels will continue following a niggling hamstring problem.
Fabregas said on Twitter: "Personally I didn't feel as good as yesterday since the day I got injured versus Stoke. Hopefully it can continue till the end of the season.
"Credit to Spurs for not giving up and give us a real test. Now rest and ready for a big game Sunday at Bolton."