Arsene Wenger refuses to throw in the towel
Posted on April 22, 2011 by SoccerPunter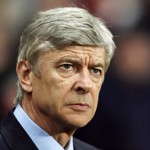 Arsenal manager Arsene Wenger claims the Premier League title race is still wide open even though his side suffered another blow as they squandered a two-goal lead in a 3-3 draw at Tottenham.
Wenger's side were 3-1 up five minutes before half time at White Hart Lane on Wednesday, but just days after Liverpool came back in the dying minutes of injury time to rescue a point, Arsenal somehow managed to blow another lead.
Rafael van der Vaart scored a penalty to earn Tottenham a point, which left Arsenal six points behind leaders Manchester United with five games left to play.
The draw also meant Arsenal dropped to third in the table following Chelsea's home win over Birmingham.
But Wenger said of the title race: "It is completely open. We have to get ready for our next game and fight, as we do.
"This team has a remarkable attitude, they are remarkably consistent. It is open, it is down to us to keep battling.
"It was a difficult game, with an average performance we would have not have gone away with a point.
"We are on a 16-game run unbeaten but recently we didn't get enough points with too many draws. That is what we want to turn by the end of the season.
"Even though we were 3-1 up the game was not won but it is not all negative because, after what happened to us on Sunday, to recover and come back with such a spirit I believe shows this team has an outstanding mentality."
That Wenger mentioned the team's mentality was telling, particularly as captain Cesc Fabregas was quoted the day before the game saying his manager's methods were not working.
Fabregas was also reported to have claimed that one day Arsenal would have to choose between developing players and winning trophies.
But Wenger denied Fabregas even said the words, adding; "It bothers me because this was an article organised by the club with checks after the article was written.
"Not only did the reporter not respect the agreement but also he twisted it completely.
"We are really upset about it because of what is added in the translation – I read Spanish and I invite you to see what is written.
"It is personally disappointing and unprofessional on the part of the journalist.
"I know Cesc well enough and I don't need to tell you any more. He said completely the opposite."
The game was played at a frantic pace and Theo Walcott opened the scoring for the visitors after just five minutes.
Van der Vaart equalised two minutes later, before Samir Nasri and Robin van Persie struck for Arsenal.
Tom Huddlestone replied just before the break and then Arsenal keeper Wojciech Szczesny caught Aaron Lennon in the area in the 70th minute, which led to the penalty converted by Van der Vaart.
Tottenham manager Harry Redknapp, whose own aspirations of finishing in the Champions League places were slightly damaged by the draw, claimed the match was "a pleasure to watch".
And he remains relaxed over whether Tottenham can still end the season in the top four, adding: "I don't know really, I don't really care either.
"If we make it, we make it and if we don't we will try again next year. We want to do it, we will give it everything we have got. But if we don't we'll come back next year."