Spain – World Cup Champions 2010
Posted on August 7, 2010 by SoccerPunter
JOHANNESBURG – Spain coach Vicente Del Bosque saluted his nation's first World Cup triumph as deserved reward for their commitment to playing the Beautiful Game.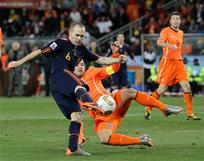 Andres Iniesta's 116th-minute strike ensured the European Champions finally overcame Holland in a final that was enthralling but partially disfigured by the intimidating tactics employed by the Dutch as they attempted to knock their opponents out of their elegant stride.
"Today is a reward for beautiful football," Del Bosque said. "Spain, the country, deserves this triumph. This goes beyond sport. We have to celebrate and are delighted to be able to offer this victory to all the people of Spain."
The Spanish coach graciously side-stepped questions about the tactics deployed by the Dutch, who had centreback Johnny Heitinga sent off and seven other players booked by English referee Howard Webb.
"I'm here to speak about the beautiful things of football," he said. "Holland played a good game. It was an even, balanced match. Yes it was rough at times but that is part of football."
Dutch coach Bert van Marwijk defended his players' approach, which resulted in him being accused of betraying the legacy of great Dutch sides of the past.
"We knew that we would really have to have a top day to beat Spain and tactically we did a good job. For the major part of the match we were in a good position."
Marwijk acccepted that the the high card count — Spain also had five players booked– was "regrettable for a final."
But he added: "It is not our style but then again you play a match to win.
"It is a World Cup final and there is a lot of emotion — you saw that at the end of the match.
"I would have loved to win the match, even with not so beautiful football."
Had it gone to penalties, that might have happened. As it was, Iniesta was set free by substitute Cesc Fabregas's pass and hammered in an unstoppable shot to ring the starting bell for the mother of all fiestas.
It was a painful blow for a Dutch side that had hoped to eradicate memories of the country's defeats in the 1974 and 1978 finals.
"To lose a final with four minutes to go, it leaves you with a very bitter feeling," van Marwijk added. "Even with ten men I thought it would be possible to get to penalties."
Marwijk admitted however that Spain had deserved their victory over the 120 minutes, although he could only reflect on what might have been had Arjen Robben taken either of the two great chances he had in the second half of regulation time.
On the first, the Bayern Munich winger was denied by the boot of goalkeeper Iker Casillas.
On the second he was impeded by Carles Puyol, who had already been booked, and might easily have resulted in a red card if Webb had had a better view of his challenge.
"I'm not someone to look back on what the referee did. I think the best team usually wins the match," the Dutch coach said.
"But if you look at the second chance of Robben, the referee should give Puyol a second yellow card, which would have meant him being sent off.
"It was a crucial moment just before the end of the 90 minutes. It is very bitter, but that is sport. It is harsh. And as I said, Spain were the better team."
Nelson Mandela's beaming pre-match appearance ensured the only glum face at Soccer City before kick-off belonged to Fernando Torres, consigned to the bench until the second period of extra-time as Spain opted to keep David Villa in the central striking role.
Torres' evening was to finish on a much happier note however with his cross causing the disruption in the Dutch defence that enabled Fabregas to tee up Iniesta for the winner.
Villa had contributed five of the seven goals his side had scored en route to the final but a superb block by Heitinga early in the second half denied him a sixth from his only clear chance in a final in which most of Spain's best chances fell to their defenders.
Sergio Ramos had an early header well saved by the excellent Stekelenburg and then saw a drive across the goalmouth deflected over the bar by Heitinga without the Dutch centreback knowing too much abut it.
Spain's early impetus slowed in the face of the Dutch snapping into every tackle — Nigel de Jong in particular was lucky to stay on the pitch after a reckless high challenge resulted in him planting his studs into Xabi Alonso's chest.
But they reasserted themselves after the interval, with Joan Capdevila and then Villa both squandering great chances.
The Dutch, through Robben, also had their opportunities but it was Spain who always looked the more likely winners in extra-time.
Fabregas fired the best chance against the Dutch goalkeeper's legs before Heitinga left Webb with not option but to issue a second yellow card by pulling back Iniesta as he chased a pass from Xavi into the box.
The Spanish were unable to exploit the resulting free-kick but Iniesta, finally, ensured they got what they deserved.
SoccerPunter Analyst Comments
It was an exciting encounter although it remained goalless in the normal time 90 minutes.
Spain deserved to win as their ball possession was superior against the Dutch. Iniesta was always the dangerous match with his excellent dribbling skills and pin-point pass to his team mates.