Rooney could leave Manchester United
Posted on October 19, 2010 by SoccerPunter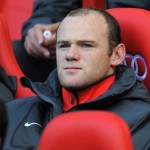 The future of Wayne Rooney dominated media reports here Monday as speculation mounted that the Manchester United superstar was set to leave Old Trafford following a rift with Sir Alex Ferguson.
Although Manchester United officials have dismissed talk of Rooney being sold as "nonsense," the denial failed to halt an avalanche of media coverage stating the player was determined to quit the English giants.
Several newspapers reported that Rooney's previously close relationship with Ferguson had deteriorated irrevocably following a bust-up over lurid tabloid revelations about the striker's private life which emerged last month.
The Times cited unidentified sources as saying Rooney and Ferguson had "not had a civil conversation for weeks."
The Daily Mail said Rooney now wanted to leave as soon as possible, saying the England star felt aggrieved by a perceived lack of support from Ferguson over reports alleging he cheated on his wife with prostitutes.
Ferguson chose to rest Rooney for the match immediately following the scandal, against Everton, and has since left him out of the starting line-up for games against Sunderland, Valencia and West Bromwich Albion.
The first sign of a rift between the pair was exposed last week when Rooney openly contradicted Ferguson's claim that he had been nursing an ankle injury, saying he had not missed a training session all season.
That defiant statement has been viewed as a declaration of war by Rooney, who has less than two years left to run on his existing contract with United and who is valued at around 50 million pounds.
If Rooney is determined to leave, United — who have debts totalling more than 700 million pounds — will be forced to cash in while they can or risk him leaving for nothing in 18 months time.
While Ferguson has not been afraid to off-load star players in the past — getting rid of Paul Ince, Jaap Stam, David Beckham, Roy Keane and Ruud van Nistelrooy — Rooney's exit would be unprecedented, the Mail commented.
"Rooney is different not just because he is the one reaching for the eject button, but because he remains in his prime and the most important member of the United team," the paper noted.
"If Rooney leaves it would blow a gaping hole in not only Ferguson's front line but also in the morale of the team."
The Times meanwhile identified Real Madrid and Manchester City as the likeliest suitors in any race to sign Rooney, nothing that Real manager Jose Mourinho was a long-term admirer of the player.
The prospect of Rooney crossing Manchester to sign for City — a transfer which would horrify United fans — was also possible, the Times said.
"If hypothetically speaking, the situation has not been resolved by January and City offer 45 million pounds for a player who is at odds with his manager and whose contract is running down, could (United) really say no?," the paper asked.