Fergie admits Rooney wants to quit Man Utd
Posted on October 20, 2010 by SoccerPunter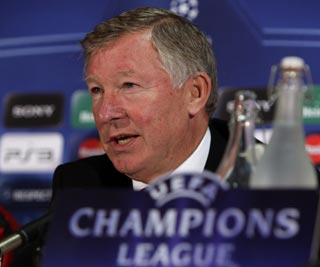 Manchester United manager Sir Alex Ferguson confirmed Tuesday star striker Wayne Rooney wants to leave the club, expressing "shock and disappointment" at the player's stance.
"I had a meeting with him. He intimated to me in his own way that he wanted to leave," Ferguson said at a dramatic press conference ahead of United's Champions League tie with Turkish side Bursaspor on Wednesday.
Speculation about Rooney's future had raged for days after Ferguson dropped the 24-year-old England international for last Saturday's Premier League clash with West Bromwich Albion.
It came after Rooney publicly contradicted Ferguson's claims that he was suffering from an ankle injury by telling reporters he was fully fit.
Ferguson finally broke his silence on the saga at a press conference on Tuesday, confirming that Rooney had requested to leave Old Trafford but denying any argument with the player.
A clearly shell-shocked Ferguson said he had first been made aware of Rooney's desire to leave before the start of the new season when informed by United chief executive David Gill.
"It was a shock. I couldn't believe it," said Ferguson.
"In early discussions – in March I think – we had discussions with him, he intimated he wanted to stay, that he wanted a life contract with the club, that he was at the best club in the world.
"It was terribly disappointing to get the news. We couldn't understand it. We have to keep the door open because he is such a good player," Ferguson said, admitting he was baffled by the position of Rooney, who he signed as a teenager from Everton in 2004.
"We have done nothing but help him since he came to this club, that is why this is such a mystery to us. We've helped him with his private life and other matters," Ferguson said.
"So we're as bemused as anyone can be because we can't understand why he would want to leave a club that is so successful as we are in British football."
In another twist, Ferguson revealed that Rooney had been injured in training on Tuesday and would not be in the squad for Wednesday's game with Bursaspor.
Ferguson also expressed disappointment that Rooney had contradicted his comments about being injured, insisting he had been nursing an ankle knock.
"Why he came out and said that you can only guess yourself. It was disappointing he said that," Ferguson said in an interview with United's MUTV television channel.
"He got an ankle injury in the Rangers game. He was seen clearly hobbling at half-time. He confirmed it himself in an interview with Sky," Ferguson said.
"My idea, based on the fact he wasn't playing that well, was to leave him out of the Sunderland game, make sure his ankle is properly prepared for the next game, and give him a 10-day recovery so he could play for England.
"My hope was that by playing for England at Wembley he could recapture his form and we could kick on."
Media reports had said Rooney and Ferguson had fallen out after the publication of lurid tabloid reports about the player's private life, with Rooney complaining about a perceived lack of support from Ferguson.
With Rooney having only 18 months left on his existing contract, United will now likely be forced to sell their prized asset, valued at 50 million pounds, in order to recoup as high a price as possible for the player.
Manchester United's cross-town rivals Manchester City have emerged as the favourite to land Rooney, with the player's wife reportedly reluctant to entertain a move overseas.
The Guardian said any move by Rooney to Eastlands would represent the "most rancorous and staggering transfer of modern times."
The newspaper reported City would do everything they could to land the player, noting that City's administrator Brian Marwood has a long-standing association with Rooney's agent, Paul Stretford.
"We hadn't discussed signing Rooney until the last week because we never thought he would be available, just like we have never discussed signing Lionel Messi from Barcelona," a senior Manchester City figure told the paper.
A move to Manchester City would likely see Rooney become the highest paid player in English football, more than doubling his current salary of 90,000 pounds per week to as much as 250,000 pounds per week.