Ronaldo reaches the 100-goal milestone
Posted on April 15, 2017 by Ify Okocha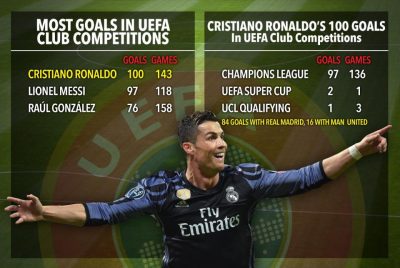 Cristiano Ronaldo added another feather to his cap by becoming the the first player to score 100 goals in UEFA club competitions. Real Madrid, who had beaten Bayern in only one of 11 previous visits to the Allianz Arena, beat them 2 -1 this time.
The four-time world player of the year took his tally to 98 goals in the Champions League. With goals in the 47th and 77th minutes. This came after an incredible 4,624 days since his first… for Manchester United against Debrecen in 2005.

The Portuguese has now scored 82 goals in 84 appearances in the Champions League for Madrid. Scored 15 in the competition and one in a qualifier for Manchester United. Prior to moving to the Spanish capital in 2009. With a total of 97 goals. He is now bearing down on becoming the first player to score 100 Champions League goals.
When presented with a commemorative shirt by club president Florentino Perez after setting the latest record in his illustrious career, he said he never expected to become the first player to score 100 goals in UEFA club competition.
"I'm grateful to Real Madrid for the opportunity to have a brilliant career at this club and also to my teammates"
"When I started scoring goals in the Champions League I never thought I would break this record. It's an honour for me because it's a very difficult number. I'm delighted."
But Ronaldo – who admitted on Wednesday that he has altered his training program to reduce the risk of injury. He is confident that the entire squad is ready for the run-in.
"We know that April is a difficult month, a decisive one, and the team looks good. The boss has done a great job with rotations and we're ready for the final stretch."
Ronaldo 100 goals from 140 games has helped him to THREE Champions League trophies in the process.