Republic of Ireland hand Trapattoni win over Italy
Posted on June 9, 2011 by SoccerPunter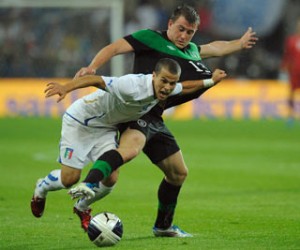 Republic of Ireland manager Giovanni Trapattoni put one over his compatriots on Tuesday as his side beat a largely-dominant Italy 2-0 in a friendly match.
However, while the Italians wasted what few chances came their way the Irish scored with both theirs through Keith Andrews in the 35th minute and then Simon Cox added a second on the stroke of full-time.
Both Trapattoni and his Italian counterpart Cesare Prandelli opted to rest several of their first choice players after they won their respective Euro 2012 qualifiers at the weekend.
Trapattoni, one of the most successful club coaches of all time but who failed to reproduce that in a four year spell as Italy coach, was delighted with his side's display.
"We showed a really good mental attitude," said the 72-year-old.
"We really wanted this win. It is just how I like to see my players perform.
"Italy had the majority of the possession, combined well but my players showed the necessary discipline.
"Football is not just about the 'show', it is also and maybe even more so the achievement of ones goals," added Trapattoni, who is one of only two coaches to win league titles in four different countries.
Prandelli for his part was disappointed by his side's performance.
"My team took a step backwards this evening," said Prandelli, who replaced Marcello Lippi after the 'azzurri' woeful defence of their world title last year when they went out in the group stage.
"The players forgot one essential thing: in order for one's individuality to shine you have to play as a team.
"Today, my boys did quite the opposite. Each one of them tried to find the answer on his own. And we saw what the result of that was," added the 53-year-old.
The Italians went on the attack from the outset in a match played in what seemed like a rather strange venue but which is home to a large Italian community.
The Italians – captained by the ageing talent of Andrea Pirlo one of the few survivors from their 2006 World Cup triumph – came at the Irish from everywhere but only created their first serious chance in the 27th minute when Giampaolo Pazzini fired just past the far post.
Antonio Nocerino had an identical chance two minutes later but failed to improve on his team-mate's effort.
The Italians paid for their profligacy as journeyman midfielder Andrews broke the deadlock with a great effort from 20 metres 10 minutes before half-time.
The Italians were also hit hard by a storm that left the surface wet and greasy and impeded their more attractive and fluent passing game while they also met a wall of solid Irish defenders which proved impassable.
They were duly hit on another counter-attack right at the death when Cox slotted home to give the Irish victory.