Brazilian Legend Ronaldo plays his last game for Brazil
Posted on June 9, 2011 by SoccerPunter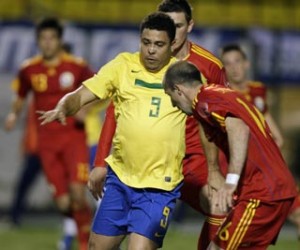 Former world footballer of the year Ronaldo ended his international career on Tuesday with a 15-minute appearance as a substitute in Brazil's 1-0 win over Romania in a friendly match.
Watched by a 30,000 crowd, the 34-year-old striker came on for the last 15 minutes of the match with the home side already ahead through a goal from Fred after 21 minutes and he had several goal chances in that time.
"I had three goal opportunities but did not manage to score which would have been a nice present to give back to those who gave me so much," he said afterwards to fans in a chilly Pacaembu stadium.
Fred's match-winning goal was set up by the latest Brazilian golden boy Neymar, who has been linked to a move into the English Premier League.
Ronaldo announced his retirement in February citing recurring injury and health problems.
During a glittering 14-year spell in Europe, Ronaldo scored goals at a prolific rate for PSV Eindhoven, Barcelona, Inter Milan, Real Madrid and AC Milan, before returning to Brazil in 2009.
He won the World Cup with Brazil as a youngster in 1994 and then in 2002 and became the leading scorer in World Cup finals tournaments when he scored his 15th goal at the 2006 tournament in Germany.
He was twice named European Footballer of the Year, in 1997 and 2002, FIFA world footballer of the year in 1996, 1997 and 2002 and finished his international career with 62 goals in 97 appearances.