Raul leaves Real Madrid
Posted on August 7, 2010 by SoccerPunter
Raul Gonzalez bid farewell to Real Madrid on Monday in an event held at the Presidential Balcony of Santiago Bernabeu Stadium and attended by club President, Florentino Perez, Director General, Jorge Valdano, head coach, Jose Mourinho and several members of the Board.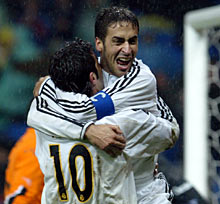 A tearful Raul admitted that it was an emotional day for him, before paying tribute to the club, staff and fans. He leaves as Real's all-time leading goalscorer and the all-time leading scorer in the Champions League.
"Today is a day of intense feeling for me, I want to thank everyone," Raul said. "I would like to tell the fans that in every run, every tackle, I've always given everything. I've always given 100% for this club."
Raul, whose departure closely follows that of long-serving midfielder Guti, was expected to join Bundesliga club Schalke on a two-year deal but has hinted that there is interest for him in England.
"Schalke is interested in me and I have had very deep discussions with them," he said. "In a few days I will know whether I'll be going to the Bundesliga, but there are other teams that are also interested. What is clear is that my future lies in Germany or England."
Raul has won six La Liga titles, three Champions Leagues, four Spanish Super Cups and one UEFA Super Cup, as well as becoming the first player to score in two Champions League finals, against Valencia and Bayer Leverkusen in 2000 and 2002 respectively.
"I would like to thank all the presidents, especially Florentino Perez, who has always tried to take this club forward," he said. "I have always been made to feel welcome.
"I want to thank the players, coaches, managers and staff who I have worked with day in day out.
"Today is a new start for me. 16 years ago I pulled on the white shirt for the first time. My heart will always be with Madrid. Real Madrid is my life and my home."
Florentino Perez, who introduced Raul before his farewell statement, also paid tribute to the departing idol.
"We will never forget Raul," he said. "There are many men who form part of the legend of Real Madrid, but few that are chosen to embody the club – Raul is one of those."
Raul, who scored 323 goals in 740 games for Real and 44 goals in 102 games for Spain, confirmed his wish to experience a new challenge but hinted that he will return to Madrid in another capacity once his playing career is over.
"This is my last chance to experience a foreign league," he said. "I am 33 and wanted to experience new training techniques and a new language and culture for my family."
Raul will be succeeded by Iker Casillas as club captain.
SoccerPunter Analyst Comments:
Raul is one of the best players in the world, a professional with sportsmanship has earned him a positve reputation everywhere he goes.
His departure was mainly due to his age and lack of goals in past 2 seasons. However, we feel that he was not given enough opportunites to impress his managers. He was a substitute in most of the matches and this resulted in an inconsistent performance.
He will definitely score many goals in his new club because of the experience he gained from European competitions.
SoccerPunter wishes Raul all the best in his future endeavours!