No progress on Beckham deal for Tottenham
Posted on January 15, 2011 by SoccerPunter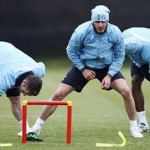 David Beckham won't face Manchester United on Sunday after Tottenham manager Harry Redknapp admitted his club's bid to sign the LA Galaxy star is still no closer to a successful conclusion.
Redknapp had hoped to bring former United midfielder Beckham back to the Premier League in a three-month loan deal and the 35-year-old has been training with Spurs since Monday.
But Tottenham have been unable to agree terms with the Galaxy as the MLS side want Beckham back in California earlier than Redknapp had anticipated.
Spurs are still keen to come to an agreement but Redknapp conceded on Friday that there is no progress at present, meaning Beckham will not feature against his old club at White Hart Lane.
"I've no idea what's happening. We've only just got full permission that he can actually train with us. There's been a bit of an issue over that," Redknapp told reporters.
"He's been doing little bits but now he can join in with everything we do. That's as far as it has gone.
"I've not dealt with it at all. I've had no conversation with anybody at LA Galaxy. The club secretary is dealing with that. At the moment there's no progress on him playing."
Beckham was keen to join Tottenham to prove to England coach Fabio Capello that he is still good enough to play for the national team.
But, even if Tottenham do manage to sign him, Redknapp believes it will be several weeks before the former England captain is fully fit.
"David is a fitness fanatic but gettting ready for Premier League football is very different. He would be the first to admit that he has felt tired in training this week," Redknapp said.
"It will be a couple of weeks before he would be fit to play.
"He is a few weeks away from playing. It's pre-season for him now. If he was playing in America he wouldn't be fit now."
Beckham's presence at the club's training ground in Essex has led to a huge influx of media, photographers and fans, but Redknapp insists it is no distraction.
And he is adamant the ultra-professional example set by Beckham in training makes him the ideal role model for Tottenham's young players.
"It's been good having him here. Everybody respects and likes him. There's nothing flashy about him," Redknapp added.
"He just comes in and gets on with it. He's not 'Billy big-time'.
"He's a great role model. He could be sitting at home by the pool in California, but he's here because he wants to play football and that's great credit to him.
"Our young players came over to watch him training. You can see the quality he's got and the way he looks after himself.
"If you have any sense, people can learn more from watching from the likes of Beckham or any of the top players than any of us coaches can teach in a million years.
"He's brought a buzz about the place. There are lots more people outside the ground but it's not done any harm. Once we train here we just get on with it."
Redknapp also admitted he wasn't sure if Beckham would attend Sunday's match against United, who currently lead the Premier League.
"I haven't discussed it. It's up to David if he wants to come to the game on Sunday. We haven't mentioned it to him at the moment," Redknapp said.