Maradona defends Messi poor form in Copa America
Posted on July 11, 2011 by SoccerPunter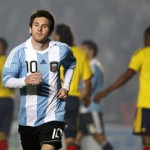 Argentina
fans, fed up with their team's lacklustre showing at the
Copa America
, need to give much-criticised Lionel Messi a break, says Diego Maradona.
Messi has long been touted as 1986 world champion Maradona's successor in the national side.
But whereas at club level Messi has managed to outshine his illustrious compatriot by winning a sackful of top honours with Barcelona, it has been a different story at international level.
With Argentina struggling to impress on home soil, Maradona told sports daily Ole it was time someone spoke up for Messi, who has been caught up in the national team's general malaise.
Maradona says the critics have got it all wrong.
"I want to defend Messi. He always plays, he loves the Argentine shirt – I can't believe all these idiots who take to the airwaves to do him down. I talked with him this week and told him to take things calmly.
"Let's not blame Leo. We have the best in the world, an exceptional boy."
Maradona is only too well aware of the pressure Messi is under having himself spent his career in the goldfish bowl — though he could point to his 1986 World Cup-winning performances to deflect later criticism.
Last summer, he experienced the pressure on Messi at close hand as the former Barcelona and Napoli star took charge of the two-times world champions at the World Cup in South Africa, where Messi once again came under a critical microscope, not least in a quarter-final thumping by Germany.
Maradona said slating one player was illogical.
"It just can't be the case that if you win the Champions League you are the greatest of all time and then if Argentina don't win two games it's all your fault.
"The team didn't attack (in drawing with Bolivia and Colombia) and then they blame him. We are being very unfair on Messi."
Maradona said he himself had turned in poor showings.
"Before the 1986 World Cup I turned in some bad games, I was a disaster and 80 percent of journalists turned on me," he recalled.
Coach Sergio Batista is set to ring the changes for Monday's must-win game against Costa Rica by dropping Carlos Tevez for Gonzalo Higuain, Ezequiel Lavezzi for Sergio Aguero, Ever Banega for Fernando Gago and Esteban Cambiasso for Angel Di Maria.
That would leave Messi free to roam off the main strikers and delegate classic number nine responsibilities, a role he has looked uncomfortable with.
Maradona, who insisted he wanted to "protect" Messi, says the player must "speak directly to the coach and say, 'listen, put someone next to me who can get stuck in and hurt our opponents,'" while freeing him to weave his magic as he does for Barcelona.
Maradona also slammed Batista for not bringing in highly-rated Javier Pastore of Palermo.
"I'm not going to pick Batista's team for him, but it seems Pastore would be a great foil for Leo," he told Ole, while adding it was "impossible" for Argentina to be a carbon copy of Barcelona.
"Let's play as Argentina and leave Pep Guardiola to get on with Barcelona," said Maradona.