Brazil was overconfident and underestimated Paraguay
Posted on July 10, 2011 by SoccerPunter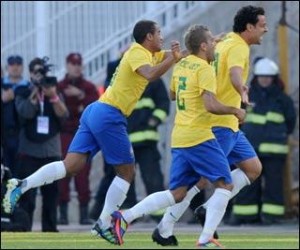 Holders Brazil jeopardised their hopes of reaching the quarter-finals of the Copa America on Saturday after they just pulled out a last-gasp 2-2 draw with Paraguay.
After taking a first-half lead through new face Jadson the five-times world champions trailed 2-1 with barely a minute remaining before Fred saved his side after the favourites had stared defeat in the face.
Coach Mano Menez sprung a surprise at the outset in dropping Robinho to the bench after his poor showing in the auriverde's opening goalless draw with Venezuela.
That result, which came despite Menezes selecting an attacking line-up, prompted a rethink and AC Milan star Robinho exited to allow Jadson a chance to prove himself.
The Shakhtar Donetsk midfielder started off by getting himself booked but six minutes before the break he fired home a crisp low shot from outside the area to spark jubilation among the yellow-clad hordes at the Mario Kempes stadium.
But a muted Brazilian side who, like winless hosts Argentina, are struggling badly at the South American showcase event, then went to sleep and almost paid a heavy price.
Eleven minutes after the restart Paraguay, desperate to get more points on the board after Ecuador held them in their opening encounter, were level through Blackburn striker Roque Santa Cruz.
Ten minutes later, and with Brazil strangely unwilling to regain their grip on proceedings after the equaliser, it was 2-1 to the Paraguayans with Haedo Valdez bundling in a deflected effort which looped home.
Brazil fullback Daniel Alves lost the ball to Santa Cruz, who found Valdez and his shot deflected in on the rebound as he collided with Thiago Silva.
With just a quarter of the match left, Menezes reacted by withdrawing Chelsea's Ramires and throwing on Liverpool's Lucas.
He then also withdrew the disappointing Neymar for Fred in a final throw of the dice with nine minutes remaining and that finally unlocked the door as the reserve striker struck at the death to deny the Paraguayans a famous win.
Paraguay, twice continental champions – their last title came in 1979 – now are provisionally joint top of Group B with Brazil, both having two points.
Ecuador were meeting Venezuela in the late game in the group.