Man Utd likely to sign Atletico Madrid keeper David De Gea
Posted on April 1, 2011 by SoccerPunter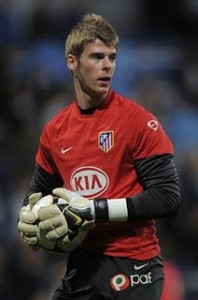 Manchester United have held talks over the signing of Atletico Madrid goalkeeper David de Gea, according to the player's agent, Hector Rincon.
The 20-year-old has been heavily linked with a move to Old Trafford during the summer as the Red Devils ramp up their search for Edwin van der Sar's replacement.
Manchester United's current No. 1 goalkeeper, Edwin van der Sar, will retire at the end of the season and De Gea is one of the star names tipped to replace the ageing Dutchman.
"Well, we did have talks with Manchester United but, first of all, they always look for an agreement with the club," Hector Rincon told sport.co.uk. "Anyway, most of the biggest European teams have shown interest in David de Gea."
Asked if Atletico would be willing to part with their highly-rated goalkeeper, Rincon said: "You would have to ask the club. What I can tell you is that his release clause now is €20 million, but I have no idea if the club would sell him for less.
"Right now, the player has a contract with Atletico Madrid and if Manchester United or any other team want him they will have to reach an agreement or pay the whole release clause."
He added that several other English clubs have asked about the youngster's situation, and that Wigan had attempted to buy the player before he burst onto the scene.
"Well, some time ago, before he became an important player in Atletico, Wigan made an offer, but the club rejected it," said Rincon.
"Recently, I don't want to say any names but all the big clubs in England and in Europe have asked about him."