Inter coach Leonardo looking forward to Milan Derby
Posted on April 2, 2011 by SoccerPunter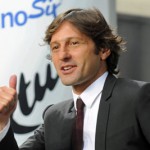 Inter Milan coach Leonardo on Friday rejected any talk of having something to prove to former employers AC Milan ahead of Saturday's derby – but admitted the game between the two rivals would require psychological toughness.
Milan lead Inter by two points in Serie A with just eight games to go and Leonardo, who parted company with the red and black side of the city last summer, before replacing the sacked Rafa Benitez at Inter in mid-season, would love nothing better than to put one over his old side.
But "this is not 'my' match. It is Inter's and the players' – I am not looking for revenge," insisted the Brazilian.
Given the closeness of the title race Leonardo said it would be a test of nerve for both teams.
"There is a lot riding on this derby psychologically – but arithmetically speaking it cannot be decisive as there are seven games left and 21 points to pick up," he noted.
Regarding tactics, he noted that the players would first of all have to refocus after the international break but that in any case "a derby is an extra-ordinary match which goes beyond all matters tactical. We know each other too well so I don't think there will be much to discover or invent."
Former Inter striker Zlatan Ibrahimovic will miss the game through suspension but Leonardo said he believed AC Milan would still have plenty of firepower to watch out for while his own side hoped to have Argentine forward Diego Milito, out with injury for almost two months, back in his group.
AC Milan coach Massimiliano Allegri insisted meanwhile that the derby "is a very important match – but more important for them than for us.
"Milan will be ahead of them at kick off and if we win we will be five points clear with seven games to go which would not be bad."
However, Milan have taken just one point from their last two outings to lose some of their impetus and Allegri admitted that "that's what is so great about football – everything can change very quickly."
Even so, "we have been top for 21 rounds of games and we knew we would not win the championship with a month to spare – you only win the Scudetto if you are four points clear with one game to go," said Allegri.
"Are they optimistic? Well we are more so," he insisted.