Man City turn down Tevez's transfer plead
Posted on December 13, 2010 by SoccerPunter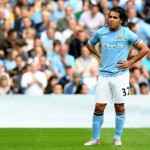 Highflying Premier League side Manchester City on Sunday rejected a written transfer request by captain Carlos Tevez.
The 26-year-old Argentine international has endured a rocky relationship with manager Roberto Mancini and is understood to be homesick and is not happy being so far away from his two daughters, who live in Argentina.
Tevez has scored 33 goals in 50 Premier League games since joining from Manchester United last summer but of late his relationship with Mancini has appeared to sour which burst out into the open when he was replaced after scoring the only goal against Bolton.
The pair exchanged angry words on the touchline, with Tevez clearly annoyed at Mancini's decision to replace him with James Milner despite the fact he had scored the only goal.
However, the club – whose victory on Saturday over West Ham moved them into second place in the table – rejected out of hands his request and expressed their displeasure at his move.
"The club remains disappointed by this situation and particularly with the actions of Carlos' representative," said a Manchester City statement.
"Roberto Mancini and all at the club have shown, and will continue to show, sensitivity to Carlos' personal circumstances including the issue of his family being based overseas.
"Indeed following his suspension as a result of the game against Bolton, Carlos requested, and was given, special dispensation by the manager to take leave overseas.
"The written transfer request is in stark contrast to Carlos' stated position in both public and club contexts.
"Significantly, over recent months, the club has also received numerous requests from Carlos' representative to renegotiate and improve his playing contract as well as more recently a request to extend that contract by another year.
"However, in line with the club's policy of not negotiating playing contracts mid-season this has not been granted. Carlos' current five-year contract has three-and-a-half years to run and he is the highest paid player at Manchester City Football Club.
"This is both an unfortunate and unwelcome distraction and the club will remain focused on the games ahead in what is turning out to be a very promising season. The door remains open for Carlos to be selected to play."
Tevez, whose prominent scar emanates from his being scalded with boiling water when he was a child and has always refused to have plastic surgery to remove it, began his English club career with West Ham in 2006, and will forever be remembered fondly there as his goal on the final day of the season against Manchester United retained their elite status.
He subsequently moved on to United where he enjoyed great success including the Champions League victory over Chelsea, but was lured to City with the promise of a more regular starting spot.
The 58-times capped Tevez – an Olympic gold medal winner in 2004 and a member of the Argentinian World Cup finals squads of 2006 and 2010 – has scored 10 of the side's 24 Premier League goals this season.