Chelsea owner Abramovich keep faith in Ancelotti
Posted on December 11, 2010 by SoccerPunter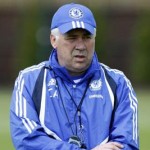 Carlo Ancelotti insists he heads into a run of matches that will define Chelsea's title destiny completely confident he won't be sacked by Blues owner Roman Abramovich.
Ancelotti has presided over Chelsea's worst run of results since Russian billionaire Abramovich bought the west London club in 2003.
After taking just five points from their last six Premier League games, Chelsea have slumped to third place in the table and a woeful run of four defeats in eight matches in all competitions continued with a 1-0 loss at Marseille in the Champions League on Wednesday.
Abramovich has sacked several previous Chelsea managers, including Jose Mourinho, Avram Grant and Luiz Felipe Scolari, for less dispiriting runs than that and it was suggested Ancelotti's job was under threat.
But the Italian talked to Abramovich after the Marseille defeat and, speaking to reporters at the club's training ground on Friday, he insisted he retains the full support of his demanding employer.
"I spoke to Roman after the game on Wednesday. He gave me total support and said he understood the problems of the team. He is doing his best to give everyone of us at the club total support," Ancelotti said.
"I'm not fearing for my job, I feel I have total support from my players and this is the most important thing. There is total support from my club. For this reason I think everything will be ok."
Ancelotti is adamant his relationship with Abramovich is strong enough to withstand the team's current troubles.
But more bad results in Chelsea's next three fixtures could put an intolerable strain on that rapport.
The Blues, who are two points behind leaders Arsenal after squandering their early-season advantage, make the short trip across London to face in-form Tottenham on Sunday.
That testing clash is followed by a home game against Manchester United and a visit to Arsenal on December 27.
Ancelotti concedes that run will define Chelsea's bid to retain the title.
"Our aim is these three games against Spurs, Man Utd and Arsenal. Our destiny is in these games," he said.
"We have skill and ability to fight for the title. We want to use the game against Spurs to move on. I don't know if it is possible but we will do our best.
"We have to improve our confidence on the training pitch, defensively and offensively. I don't know any other way. I'm not happy. I am only happy when Chelsea win but this doesn't mean I don't have motivation now."
Ancelotti has made slight changes to his team's training routine in a bid to freshen up an ageing squad that has looked short of motivation in recent weeks.
That is the only concession the former AC Milan coach has made to the current crisis however and he believes hard work on the training ground is the solution.
"Everyone knows this is not a good moment for us," Ancelotti said. "It is very easy to have good motivation now because we are not happy.
"We have to do everything to move on quickly because the team is unhappy at this moment.
"They are working hard to move on. The easy things are difficult at this moment, but we don't have to lose confidence.
"We have to stay calm, don't be afraid. It always happens that you have a bad moment in football."
Ancelotti also claims criticism from Manchester United winger Nani, who says Arsenal are now their main challengers for the title, will give added motivation to Chelsea's players.
"Maybe for us it can be a good motivation that other teams think we are out of the fight for the title," he said. "Now everyone thinks Chelsea are not good enough to fight for the title because our last match was not good but I think we will be in the fight this year."
Lampard to miss London derby
Ancelotti admitted that Frank Lampard will miss his side's crucial London derby at Tottenham this weekend.
Lampard has been sidelined for three months after hernia surgery and a groin injury, but it was suggested this week that he would feature at White Hart Lane on Sunday after returning to training.
However, Ancelotti believes Lampard needs at least one practice match before he is ready for the demands of the Premier League, so he will once again be without the England midfielder for a match his team desperately need to win.
Instead, Ancelotti hopes his star midfielder will prove his fitness in a friendly this week and then return to action when Manchester United visit Stamford Bridge next weekend.
"He is not fit again. He is out. I can say this with a smile because he trained well but we think it will be a very tough game against Spurs," Ancelotti told reporters at the club's training ground.
"We didn't have a chance to test him in a game. We have to arrange a game for him, maybe on Thursday, after that he can be available.
"He trained well, he doesn't have a problem to train, but this is a tough game. So he will play a friendly and be ready for the Man Utd game."
Ancelotti will also be without Jose Bosingwa as the Portugal right-back struggles with a torn hamstring, but captain John Terry and left-back Ashley Cole will be fit to start.
England defender Terry came off in the second half of Wednesday's defeat against Marseille to protect an ankle injury, while Cole missed that Champions League tie to rest an ankle problem.
"Terry is ok, Ashley Cole had a problem on his ankle, but he is ok as well. Bosingwa is out with a tear on his hamstring," Ancelotti added.