Liverpool skipper Steven Gerrard out for the season
Posted on April 8, 2011 by SoccerPunter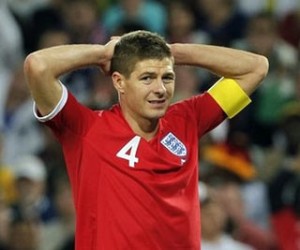 Liverpool skipper Steven Gerrard has been ruled out for the rest of the season after suffering a groin injury, manager Kenny Dalglish confirmed Friday.
Gerrard had recently returned to training following a groin operation in early March but broke down last Friday after sustaining a similar injury, dealing a blow to Liverpool's push for a European place.
Dalglish said Liverpool were still trying to pinpoint the exact cause of the latest injury following a week of assessments.
"We still don't know definitively what the problem is," Dalglish told a press conference ahead of Liverpool's match with Manchester City on Monday.
"We will wait to get a precise answer from the people that he has to see but he won't be involved again this season."
News of Gerrard's injury is another major headache for Dalglish, who is already without defender Daniel Agger for two months after he damaged knee tendons against West Bromwich Albion last month.