FA turn down Rooney appeal for suspension in two matches
Posted on April 7, 2011 by SoccerPunter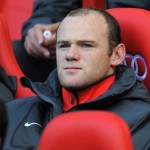 Manchester United star Wayne Rooney has been banned for two matches following his expletive-laden tirade at a television camera, the FA confirmed on Thursday.
Rooney will now miss United's upcoming Premier League clash with Fulham as well as their FA Cup semi-final clash with Manchester City on April 16 after an appeal by the club was rejected.
Rooney had surprisingly been charged with using abusive language after he swore into a camera following his hat-trick in the 4-2 win over West Ham at Upton Park last Saturday.
The charge carried a mandatory two-match suspension but United had appealed to have the ban cut to one match at a hearing on Wednesday.
"Rooney had admitted a charge for the use of offensive, insulting and/or abusive language, but claimed that the automatic penalty of two games was clearly excessive," an FA statement said.
"The commission did not accept the claim and Rooney will begin the standard two match suspension with immediate effect."
News of the ban came after Rooney scored the winning goal in Manchester United's 1-0 victory over Chelsea in the Champions League quarter-finals at Stamford Bridge on Wednesday.
Rooney said in a statement he was "gutted" at the outcome.
"I am gutted to miss two matches, one of which is an FA Cup semi-final at Wembley," Rooney said.
"I am not the first player to have sworn on TV and I won't be the last.
"Unlike others who have been caught swearing on camera, I apologised immediately. And yet I am the only person banned for swearing. That doesn't seem right."
United also expressed dismay at the ban.
"Manchester United is clearly very disappointed with the decision," a club statement said. "The club put forward a very strong case to have the punishment reduced, which was unsuccessful."
United team-mate Rio Ferdinand meanwhile spoke out in defence of Rooney after Wednesday's Champions League tie, saying it was time to stop "lynching" the England striker.
Ferdinand's comments came as soft drinks giant Coca-Cola confirmed it had dropped Rooney from its advertising campaigns.
"We should follow him as a footballer rather than keep lynching him for a lot of the stuff that goes on," Ferdinand said.
"I wouldn't say he is innocent in a lot of the stuff that has happened but sometimes, because of the player he is and who he is, the reaction can be over the top.
"Wayne Rooney swearing on TV, as much as I don't condone it, is not front page news.
"There are bigger things going on in the world. There are things happening in Libya and Ivory Coast and we are talking about Wayne Rooney on the front page of newspapers because he swore at a camera.
"I don't condone it but because it is him, everyone goes over the top."