Lazio captain arrested for match fixing scandal in Italy
Posted on May 28, 2012 by SoccerPunter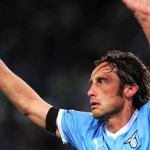 Lazio captain Stefano Mauri and several other top Italy Serie A players were arrested on Monday as part of an investigation into the so-called Calcioscommesse sports betting scandal.
He was one of 19 people implicated in the affair as police swooped on a number of addresses up and down the country, according to the Ansa news agency.
Juventus coach Antonio Conte is also questioned by police in connection with a match-fixing probe in Italy.
They are accused of having received money to fix matches for betting syndicates, whose head is believed to be based in Singapore. National team full-back Domenico Criscito's room was searched at Italy's Euro 2012 camp just outside Florence as part of the probe while Juventus coach Antonio Conte's home was also searched by police.
Of the 19 people involved in the dawn raids, 10 are either current or former players from the top four divisions in Italy.
As well as Mauri, 32, former Genoa and Fiorentina midfielder Omar Milanetto, 36 and now with Padova in Italian Serie B, was arrested.
Earlier this month, the Italian Football Federation released a comprehensive 48-page list naming 22 clubs along with 61 individuals that have been reported to the football authorities in connection with a match-fixing ring and betting investigation.
Seventeen people were arrested by Italian police last year, including Atalanta captain Cristiano Doni.
Atalanta, who had been promoted to Serie A at the end of the 2010-11 season, began the recently completed campaign with a six-point deduction as punishment for match-fixing.
Doni was banned from football for three and a half years by the FIGC's disciplinary committee.