Juventus – UEFA Champions League – Road to Finale
Posted on May 27, 2017 by Sreya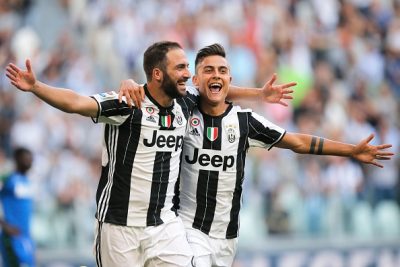 Juventus will face Real Madrid in the UEFA Champions League final on 3rd June at the Millennium Stadium in Cardiff. Juventus have been in a terrific form all season and after securing the Scudetto as well as the Coppa Italia, are now looking to complete a treble under Maximiliano Allegri.
In the recent years, Juventus have been a force to reckon with in the UEFA Champions League, putting up masterful performances against the best of the best, but have been unfortunate to have not won the coveted Champions League title in the last few years.
The last time Juventus were in the finals of the UEFA Champions League was back in the 2014/15 season when they were beaten 3-1 by Barcelona. This Juventus side, however, has looked to be favorites from the get go and will be the frontrunners in Cardiff next week.
Juventus began their 2016/17 UEFA Champions League campaign having been drawn into Group H with Sevilla, Olympique Lyonnais, and Dinamo Zagreb. With four wins and two draws in the group stage, Juventus set up a meeting with Porto in the Round of 16.
Two clean sheets and an aggregate score of 3-0 against the Portuguese side ensured Juventus were drawn against Barcelona in the quarter-finals.
"We have to dictate the match in Cardiff as we have done in the previous rounds. We'll give everything and, even if they're going at us in attack, we have a brilliant defence to deny them. So far, everyone has played a huge part in taking the team this far. Now we've just one last step to make to reach our final objective of the season."

– Paulo Dybala, Juventus.
Juventus were at their tactical best against Barcelona, in defence and going forward, when they took their 3-0 lead from first leg to orchestrate a goalless draw at Camp Nou and qualify for the semi-finals. The semi-finals against an effervescent but youthful AS Monaco side demonstrated Juventus' experience as they saw off the Ligue 1 club with relative ease.
Real Madrid, especially with the tactical novelty of Zinedine Zidane, will be Maximiliano Allegri's toughest test, but one Juventus are perfectly capable of winning