Is Gary Neville's Time At Valencia Up?
Posted on March 22, 2016 by Sreya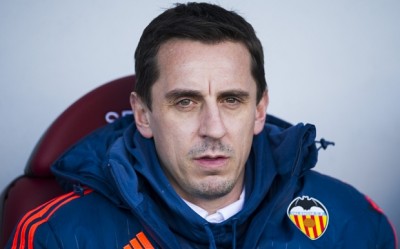 Gary Neville was met with hostile chants from Valencia fans at the Metsalla during their previous La Liga match and speculations suggest time is up for the Englishman at the Spanish club.
Valencia have won only three of their sixteen league matches under Gary Neville's reign and are six points off the relegation zone. Although Neville shares a good relationship with the Valencia board, the fans are convinced Neville is not the right person to lead the club forward. Neville's appointment as the club manager earlier this season had been met with trepidation from most quarters and the lack of results have justified the doubters.
The Spanish as well as the British media speculated that Valencia are likely to offer Gary Neville a long-term deal, provided the club stays up in Spanish top division, but Neville is unlikely to accept for the Englishman feels he has not done enough to earn a new contract.
Gary Neville, who is also the assistant manager of the English national team, has chosen not to join the setup during the current international break, keeping in mind the crisis at Valencia.
"I have just spoken to Roy Hodgson and I am going to stay back in Valencia; I feel it's the right thing to do. I understand the two or three million people in Valencia need my attention this week. The last thing I want is for people here to say Gary Neville lacks commitment, because it's not something that's even been said about me in my life."

– Gary Neville, as said to The Guardian.
In spite of Neville staying back at Valencia and working throughout the international break, his future at the club seems dim unless results improve dramatically.