Ferguson dismiss Hargreaves injury claims
Posted on September 24, 2011 by SoccerPunter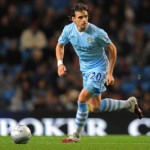 Sir Alex Ferguson hit back at comments by Owen Hargreaves on Friday after the former
Manchester United
midfielder said the club's staff mishandled his long-running knee problems.
Hargreaves, who made a goal-scoring debut for Manchester City in Wednesday's League Cup victory over Birmingham, suggested after the game that his fitness problems at United may have been exacerbated by treatment he received.
Ferguson swiftly rebutted Hargreaves' claim in his weekly press briefing, rejecting suggestions that United staff were at fault.
"As far as I'm concerned, all it's worth is this: my medical staff is one of the main reasons Manchester United have been so successful the last few years, there is no doubt at all about that," Ferguson said.
"I have a fantastic medical staff, great sports science (staff). Do you think we would have been so successful the last few years if we didn't have an operation at 100 per cent?
"They are brilliant. The doctor, his five physiotherapists, the sports scientists, all fantastic.
"That is my opinion of Manchester United and that is more important than what anyone else has got to say about it."
United later expressed dismay at Hargreaves' comments.
"Manchester United is disappointed with Owen's remarks after the game on Wednesday," a club statement said.
"The club gave him the best possible care for three years and is as disappointed as anyone he was not able to play a part in the team's success at that time.
"It has shared all the medical records with Manchester City and is comfortable with the actions taken by its medical staff at each step of his many attempts at rehabilitation.
"United does not acknowledge any validity in the comments Owen is alleged to have made."
Hargreaves, who underwent two knee operations, played just six minutes of first-team football for United from September 2008 until his departure from Old Trafford when they declined to offer him a new contract this summer.
Speaking after his successful comeback this week, Hargreaves spoke to reporters about the treatment he received while at United.
"I received some injections but my tendon was never the same," he said.
"After the injections, I tried to get back on my feet and they said my tendon was good, but it felt like I was made out of glass. That obviously had a huge impact."
Hargreaves also claimed he was "left to pick up the pieces" by his former employers and added: "With my tendon injury, I've had to be a guinea pig for a lot of these treatments."
With relations between the two Manchester clubs strained, to say the least, the latest bone of contention — and Ferguson's clear anger at Hargreaves' accusations — is merely going to add to the rivalry.