FAS disband Singapore (Lions) football team
Posted on January 7, 2011 by SoccerPunter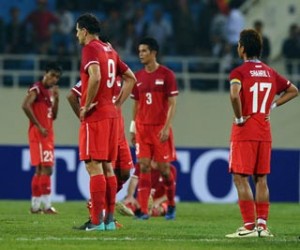 Singapore football is in for a major overhaul, after all the national players were dropped from the team following a year of dismal performances.
In the last 12 months, the national team, better known as the Lions, failed to qualify for the last 16 of the Asian Cup and did not advance beyond the group stage of the recent Suzuki Cup.
In an interview on Thursday morning, the president of the Football Association of Singapore (FAS), Zainudin Nordin, said the state of football in Singapore is disappointing.
"We have analysed the reports on what happened in 2010 and realise that for the good of football, I think, we have a major revamp of the national team. What is going to happen is that we are going to have a new slate of players, that means players that will be totally taken from ground zero.
"That means all the (existing) players will be dropped and the national coach and the technical team will do a (new) selection based on merit. From all the assessments, we believe this is the best thing to do, for the good of the future of Singapore football."
Mr Zainudin also called for patience from fans.
"We must also be able to accept that for such a development to happen, it will take time. And this is the thing we need to understand because developments and strategies that need to be done with the young players will require time and opportunities for them to develop."
The decision to disband the national team, however, does not come as a shock to some.
Former Singapore international, S Sasikumar, said: "No real surprise. I believe there was a decision that needed to be made. For next year we have the Olympic qualifiers and the SEA Games, which basically involve the under-23 team. Hopefully, we can keep this team until 2012 and call them the national team."
Sasikumar added that introducing fresh young talent could be part of the solution.
"The Youth Olympic Games was a perfect example, where we saw a great mix of players. If we can achieve that and hopefully use that team as a base, I think the future does look good," he said.
Football fans Channel NewsAsia spoke to also had their views.
"(There are) still some good players in there, like Daniel Bennett, Shi Jiayi and Mustafic Fahrudin. So I think they should get a second chance at going into another Cup to actually try and win it," said a football fan.
"Young players should….not be going for competition until they are really prepared for it," said a second fan.
So, could bringing in more foreign talent be the answer?
Sasikumar said: "If you bring on a (foreign) player, give him a passport, he needs to make a difference. I mean, seriously make a difference. If we look at the (foreign) players now, they are (only) 10%, 15%, 20% better than local players. The local players will eventually make it to that position. I'm talking about players that are at least 50% to 60% better than what we have. Then the impact will be there."