Ancelotti and Hodgson fighting for their jobs
Posted on January 6, 2011 by SoccerPunter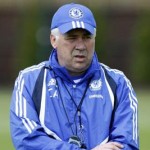 Carlo Ancelotti and Roy Hodgson were left fighting for their managerial lives after Chelsea and Liverpool both suffered shock losses on a night of Premier League upsets.
Chelsea manager Ancelotti was left stunned after the champions crashed to a 1-0 defeat at lowly Wolves, a result that extended the Blues' miserable run of form to just one win in nine matches.
"At this moment it's very difficult to explain what's happening to us," said Ancelotti.
The Italian, who admitted earlier this week he was lucky not to have already been fired by notoriously trigger-happy Chelsea owner Roman Abramovich, now faces fresh scrutiny over his future.
Chelsea's slump has left them in fifth place, a hefty nine points adrift of leaders Manchester United, who have a game in hand.
Ancelotti appeared to write off Chelsea's hopes of retaining their title following the defeat — but insisted he did not fear the sack.
"Nothing is lost at the moment. Obviously it's difficult to come back in the Premier League but we have the FA Cup and the Champions League, and the most important thing now is to move on.
"Would I be surprised if I got the sack? Yes. It is obviously not my decision but I hope I can continue this job," Ancelotti said.
"I would like to stay here, I have got a good relationship with the players and the club. I don't fear for my job. I'm worried because the team doesn't reach the right results."
Liverpool manager Hodgson meanwhile did little to dampen speculation about his future after watching his side slide to a 3-1 defeat at Blackburn.
New Year's Day had seen a flurry of stories across the British media suggesting Liverpool's American owners were already searching for Hodgson's successor after deciding to jettison the 63-year-old.
While most reports indicated Hodgson would be replaced at the end of the season, Wednesday's abject display could hasten his exit.
Asked to comment on his future, Hodgson cut short his post-match press conference after just two minutes and three questions.
"I am not prepared to talk about that because obviously I am depressed enough with the performance and the result," Hodgson said. "I have no comments to make and I have no intention of answering any questions on the subject."
Asked for his reaction to the defeat Hodgson said: "Dejection, bitter disappointment, frustration.
"I am very disappointed for the fans who gave us good support and saw the team concede the goals we did," he said.
"As far as I am concerned it is a really bad day and there is not much more I can say other than, to the fans, that anything they are feeling tonight I can assure them the feeling is equally as bad and equally as depressed in the dressing room."
Rovers' victory was virtually sealed by half-time, with Martin Olsson opening the scoring on 32 minutes before Benjani Mwaruwari doubled the lead six minutes later. Benjani rubbed salt into the wound with Blackburn's third on 57 minutes.
Steven Gerrard scored a late consolation but hopes of an unlikely comeback were extinguished when the Liverpool skipper missed a late spot-kick.
Wednesday's much-anticipated fixture between Arsenal and Manchester City failed to live up to expectations, finishing in a 0-0 draw.
The result allowed City and the Gunners to hang on to second and third place in the table respectively.
The main talking point was a double sending off in the dying minutes following a clash between Arsenal defender Bacary Sagna and Pablo Zabaleta.
Wenger agreed with City boss Roberto Mancini that the two red cards could have been avoided.
"They looked harsh to me, for both of them. I would have to look at it again," Wenger said.
"I thought it was a foul for Sagna, and then they just bumped into each other's head. You can give it, you cannot give it… I thought it could be yellow cards but unfortunately it was two reds."
Mancini added: "For me it's not a sending off. For me, two yellow cards was enough."
Tottenham's title hopes suffered a setback when a 2-1 loss at Everton left them in fourth spot, but eight points behind Manchester United.