Euro 2012 Qualifier: UEFA awarded Italy 3-0 win against Serbia
Posted on October 30, 2010 by SoccerPunter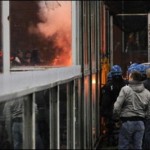 UEFA on Friday ordered Serbia to play a home match behind closed doors and awarded Italy a 3-0 win after their Euro 2012 qualifier three weeks ago was cancelled because of crowd trouble.
The Serbian Football Federation (FSS) were ordered to play two home matches in an empty stadium, with one match suspended for two years.
The Italian Football Federation (FIGC) were also sanctioned with one home match behind closed doors but the penalty was suspended for two years, European football's governing body said in a statement.
"The Control and Disciplinary Body has decided to award the match as a 3-0 forfeit win to Italy," they added.
"The Football Association of Serbia has been ordered to play its next two home matches behind closed doors. From this sanction, a one-match ban is deferred for a probationary period of two years."
The FSS was fined 120,000 euros while their Italian counterparts suffered a 100,000 euro fine.
FSS chairman Tomislav Karadzic expressed disappointment at the decision.
"I think the decision is not correct, especially the move to register the game as an official 3-0 win for Italy, but the other part of the decision was expected," he told reporters.
"We will give our final statement after receiving a detailed explanation from UEFA."
Serbia coach Vladimir Petrovic said the outcome was "not as bad as it could have been," but FSS secretary general Zoran Lakovic hinted that his organisation could launch an appeal.
"Of course, we have a right to appeal and we will consider all aspects and make our decision on future steps," he said.
The Italian authorities were pleased with the outcome of the investigation.
"UEFA appreciated the excellent work our delegation did in showing that the Italian Football Federation did the best possible in the dramatic circumstances of that night," said FIGC general manager Antonello Valentini.
"There should be no fears about Serbia-Italy being played with open doors as we've shown that we want to maintain excellent relations with the team, staff and the true fans of Serbia."
Italian security chief Roberto Massucci said there would be better co-operation between the two associations for the return match in Belgrade in October 2011.
"The administrative penalty was inevitable given the principle of objective responsibility," he said.
"We won't repeat the crossed wires in the communication between the Serbian and Italian authorities in the return match."
The Group C game in Genoa on October 12 was delayed then abandoned by the referee after just six minutes due to Serbian fans throwing flares onto the pitch and at rival Italy supporters.
Sixteen people were hospitalised after Serbian fans then clashed with Italian police, while at least 17 Serbian supporters were arrested.
Serbian police also arrested 35 away fans when they returned from Italy.
The FSS claimed their Italian counterparts were responsible for the crowd disorder, saying they had informed them of away supporters who were planning to cause trouble.
Under UEFA's rules, the sanctions available had ranged up to a stadium closure or disqualification from Euro 2012 as well as exclusion from future competitions.